Patient Referral Raffle Prize: Amazon TV!
---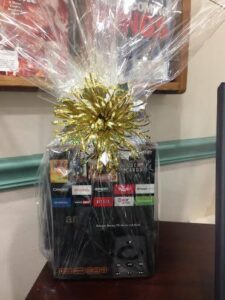 As one of our patients so kindly put it, "Any patient who comes to your office is already an instant winner!", and we can't say we disagree! However, we still like to show our appreciation, especially to our patients who recommend us to family and friends.
If you refer your family and friends to our office, you will receive a raffle ticket for each recommendation. On January 21st, we will draw from the raffle tickets to find out who wins an Amazon Fire TV, with HDMI cord! That means you can go home, plug your Amazon Fire right into your TV, and immediately enjoy Netflix, Amazon Prime, Hulu, and many other apps, along with the ability to stream music and photos.
If you've enjoyed excellent dental care here at Dr. Victor Oelbaum and Associates, reward yourself by telling your friends and earning the opportunity to win Amazon Fire TV! Contact us if you have any questions.