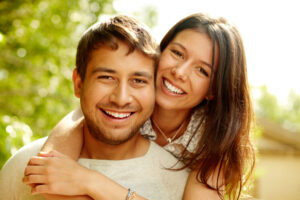 Dr. Victor Oelbaum & Associates offers a full array of cosmetic dentistry procedures designed to fix aesthetic issues and keep your teeth looking fresh and healthy. Cosmetic dental treatments are primarily geared toward correcting the appearance of your teeth, with a focus on helping with misalignments, chips, stains, and other aesthetic problems. However, they can also serve a dual purpose in correcting minor functional issues in addition to improving the appearance of your smile.
The following links will take you to more detailed descriptions of porcelain dental veneers, teeth whitening, and other procedures offered by our New York City cosmetic dentist. Please contact Dr. Victor Oelbaum & Associates to schedule an appointment.
Porcelain Dental Veneers
Porcelain dental veneers are one of the most popular cosmetic dental solutions among individuals seeking to improve the appearance of their smile. Made of durable ceramic, veneers are secured to the front surface of one's teeth to mask a number of perceived dental imperfections, including gaps, chips, stains, and even minor misalignments. They are custom-designed to match surrounding teeth for a natural appearance, and best of all, they can last for decades with proper oral hygiene.
Learn More About Porcelain Veneers
Teeth Whitening
Over time, consuming certain foods and beverages on a regular basis can lead to gradual yellowing or darkening of the teeth. For individuals who smoke cigarettes and/or use any other tobacco products, this effect can be accelerated or even worsened. Fortunately, teeth whitening can often be an excellent option for lightening the teeth by up to eight shades or more. With several professional-grade teeth whitening techniques available at our practice, Dr. Oelbaum and our team can give you a whiter, brighter smile in as little as one office visit.
Learn More About Teeth Whitening
Composite Bonding
Composite dental bonding can restore both form and function to the teeth by repairing chips or cracks, masking discolorations, and reducing the appearance of gaps and spaces between teeth. To perform this treatment, a durable composite resin is first applied in layers to the affected tooth (or teeth). Next, a high-intensity light is shone onto the teeth to harden the resin, and the composite material is then shaped and polished for a natural-appearing outcome. Composite bonding has been effectively used to treat minor aesthetic concerns for many years, and our experienced team can help determine if this cosmetic dental option would be the most appropriate solution for your specific needs and goals.
Tooth-Colored Fillings
Tooth-colored fillings address cavities and decay with a material that looks like your natural teeth, unlike the metallic amalgam fillings that were once the standard in dentistry. In addition to their improved appearance, these fillings are superior to their metal counterparts in that they do not contain any traces of mercury, which was found to be a potential health risk of amalgam fillings. Once decay has been removed from the affected tooth, a strong composite material is used to fill the cavity, helping to strengthen the tooth while protecting against future decay. The shade of the composite blends seamlessly with the treated tooth as well as the natural, surrounding teeth for an optimal aesthetic result. Tooth-colored fillings can be used for both pediatric patients and adults, and they can also replace old metal fillings for those seeking an upgrade.