Dr. Victor Oelbaum & Associates is committed to excellence in all of our general, restorative, and cosmetic dentistry treatments. Conveniently located in Bronx, NY, our practice prioritizes making patients happy by allowing them to feel comfortable and relaxed with all of the state-of-the-art treatments that can provide a healthy, better-looking set of teeth and gums. At Dr. Oelbaum's practice, every patient is treated like family!
Mission Statement
First and foremost, our goal is to provide the highest level of dental care surpassing the standards of most other dental establishments. The scope of what we hope to achieve ranges from the high quality of dentistry provided to the comfort level of the patient. Led by cosmetic dentists Victor Oelbaum, DDS and Victor Kagan, DDS, our dental professionals and office staff are sure to be available to address any concerns or needs. Our team will go the extra mile to make sure you are satisfied.
In our dental practice, we forge close relationships with patients, as indicated by their return to our office year after year. In order to maintain a high quality of care, we emphasize the need for maintenance (regular cleanings and flossing).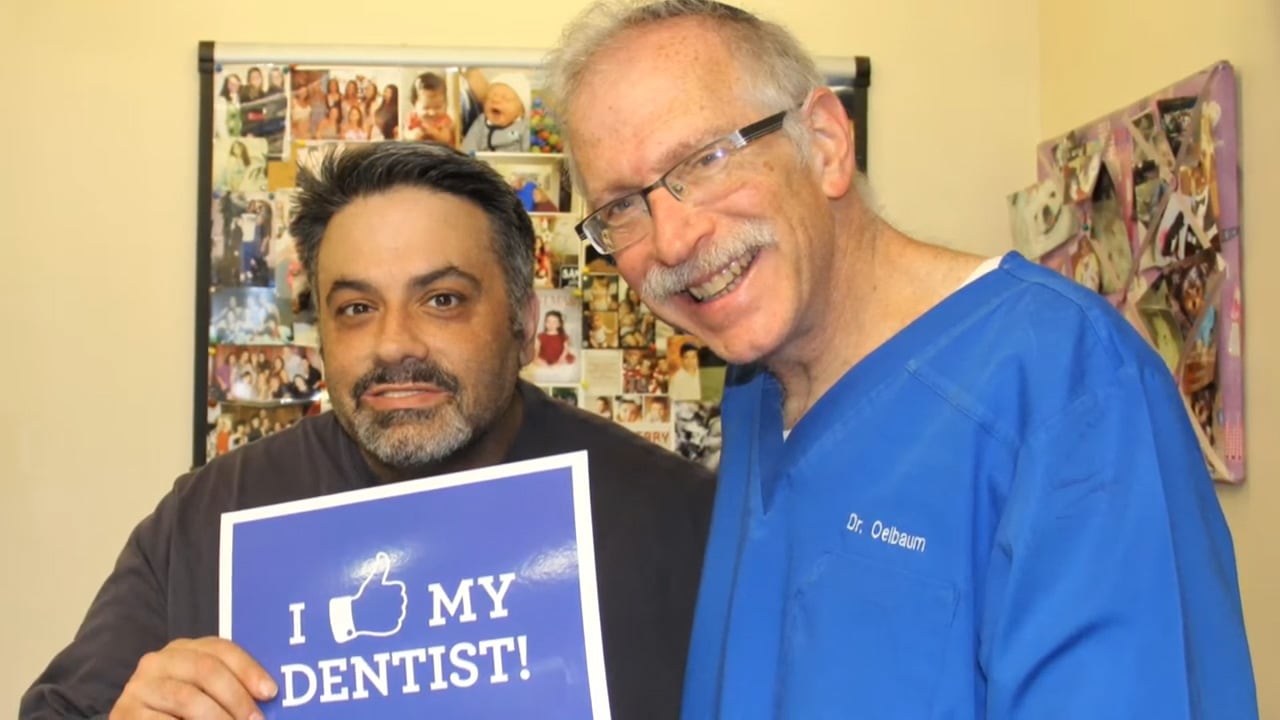 Your First Visit
During your first visit with us, one of our dentists will give you a full and comprehensive oral exam. A full mouth series of x-rays will be taken to determine if any dental treatment is required. Then, we will talk to you about your options and which treatments may be the most effective to improve your teeth and gums. 
New Patient Forms
New patient forms are available through email and at our office. You are also welcome to download, print, and complete them before your first visit with us if you prefer. These forms are available in both a PDF version and an online format. If you do not have Adobe Acrobat Reader, click here to download. If you would rather wait until you arrive at our office to fill out these forms, you are welcome to do so.
Fill Out Your New Patient Forms Online
Complete Sus Formularios Para Pacientes Nuevos En Línea
Financing / Insurance Information
We accept all major credit cards: MasterCard®, Visa®, Discover® and American Express®. We do not accept checks from a new patient on their first visit.
We offer three different payment options:
Credit Card — You will be required to leave a deposit of one-third the total amount of treatment, and then a credit card of your choosing will be charged monthly, spread out over the length of your treatment.
CareCredit® and United Medical Credit® — CareCredit® and United Medical Credit® are financing companies that will loan money for treatment. Qualified patients will have interest-free payments for a certain number of months (depending on the chosen payment plan and the total cost of treatment). Of course, other options are available. We will discuss them at your first visit. 


Payment is requested at the time that services are rendered. Depending on your treatment and whether you're on a payment plan, this requirement will vary.
Insurance Details
All patients are welcome at our practice! If you have insurance, your out-of-pocket costs will depend on your specific dental policy. We will gladly process your claim, but request that you pay your estimated portion when services are rendered. We are an out-of-network provider.
If you have a PPO insurer, your plan may or provide coverage for part or all of your treatment costs. We advise you to consult your dental insurance company to obtain the full scope of your benefits. Please note, we will file the claim for you, but you are responsible for paying the difference of your insurance at the time of service.
If you have a HMO or DMO insurer, you will not receive coverage for our services; however, you are always welcome to visit our office for your dental needs. Our team would be happy to assist you with payment and financing information, and we also offer periodic discounts for patients. 
Office Hours
We offer convenient Sunday and evening appointments.
Sunday: 8:00 am – 4:00 pm
Monday: 9:00 am – 7:30 pm
Tuesday: 9:00 am – 7:00 pm
Wednesday: 9:00 am – 7:00 pm
Thursday: 9:00 am – 7:00 pm
Friday: 8:00 am – 4:00 pm (Winter Hours: 8:00 am — 2:00 pm)
Call Dr. Victor Oelbaum & Associates at (718) 400-6918 or contact us online if you have any questions, or if you would like to speak with a friendly member of our office team.