What Is All-on-4®?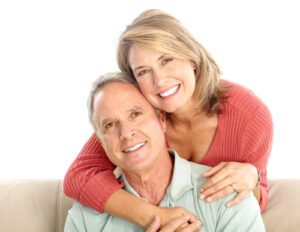 All-on-4® is an advanced treatment concept that is designed to replace the upper and/or lower arches of teeth. The solution utilizes a special implant denture process, with each denture supported by four dental implants. This technique offers enhanced stability compared to traditional dentures, and is less invasive than replacing each tooth with a single dental implant. With the All-on-4® procedure, patients can obtain a beautiful new set of teeth without the inconveniences often associated with traditional dentures.
What Are the Benefits of All-on-4® Dental Implants?
Patients who choose to undergo the All-on-4® implant denture procedure can expect a number of unique advantages. This typically includes the following:
Secure denture that will not slip along the gumline
No need for adhesives or pastes
No additional maintenance
Improved ability to eat, speak, and smile
Natural-looking teeth replacement
More details about how the All-on-4® process can address your dental concerns will be discussed with you during your initial appointment.
What Should I Expect During the All-on-4® Procedure?
Once you are determined a good candidate for the All-on-4® treatment concept, you can begin the first stage of the process: placement of the dental implants. During this step, our experienced periodontist will surgically place two implants into the jawbone towards the front of the mouth and the final two implants towards the back of the mouth at an angle. By tilting the posterior implants up to 45 degrees, this helps maximize the titanium posts' contact with the available jawbone. As a result, there is a higher success rate of the implants fusing with the jawbone, creating the solid foundation on which your final denture prosthesis will be attached. Depending on your unique oral needs, you may be recommended one of the following All-on-4® methods:
Upper Arch or Lower Arch Replacement: When only one arch of teeth has several missing or severely damaged teeth, you can obtain a new set of teeth to restore this arch.
Full Mouth Restoration: If you require a full mouth teeth replacement, All-on-4® implant dentures can be designed for both your upper and lower arches of teeth.
In some cases, more than four implants may be used to create the best possible outcome. For example, some patients are better suited for six implants to support each denture. This is commonly referred to as "All-on-6."
How Much Do All-on-4® Dental Implants Cost?
Since every All-on-4® procedure will slightly vary, the final cost will be different from patient to patient. In general, the average cost of the All-on-4® process ranges from $25,000 to $60,000. The specific number will depend on a variety of factors, such as:
The number of arches to be replaced
If preliminary work is needed, such as tooth extractions
Laboratory costs
Expertise of the dentist
Geographic location
When you come in for you initial appointment, our staff can provide you with a more personalized cost quote based on the specifics of your treatment plan. If you are interested, they can also go over your dental financing options to help divide your total cost into more manageable monthly payments.
If you would like more information about All-on-4®, or would like to set up an appointment with our team Dr. Victor Oelbaum & Associates, feel free to contact us.