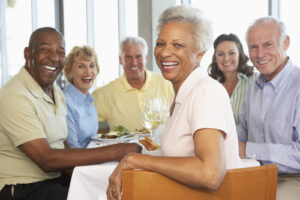 As we grow older, the natural process of aging combined with years of wear and tear on the teeth and gums starts to take a toll on our oral health. For many individuals in their 60s, 70s, and beyond, this begins manifesting in the form of yellowing/discoloration, tooth decay, tooth loss, and/or the onset or progression of gum disease. For others—particularly those who have encountered dental problems in the past—issues may include dentures that no longer fit properly or dental implant complications/failure.
At Dr. Victor Oelbaum & Associates, our dentists are experienced in providing state-of-the-art oral care to patients of all ages—including senior citizens. Below are some of the most common dental concerns and possible treatment options for elderly patients who visit our office. It is important to note that this is by no means a comprehensive list, so if you do not see your specific dental issue, please feel free to contact our practice today to discover potential solutions for your particular case.
Darkened Teeth
Along with the natural aging process, years of consuming certain foods and beverages can result in a gradual darkening of the teeth over time. Some of the biggest contributors to the formation of stains include coffee, red wine, soda, berries, pasta sauce, curry, and various other edibles and liquids that are dark in color. Additionally, the habitual use of tobacco products can play a major role in tooth discoloration. For individuals bothered by darkened teeth, our practice offers several professional teeth whitening techniques that can significantly lighten stains and discoloration to reveal a bright, vibrant smile. With both in-office and at-home options available, our dentists can help you whiten your teeth by six to ten shades—and possibly more.
Tooth Decay
Tooth decay is caused by a buildup of bacteria that can be brought on by a number of different factors, including poor oral hygiene, a high consumption of sugary foods, a lack of saliva production, tobacco use, and various medical conditions. Depending on the severity of tooth decay present, our practice offers fillings, porcelain crowns, root canal therapy, and/or tooth replacement to treat this common issue among older patients. Following a thorough oral examination, one of our dentists can determine the most appropriate option for your specific needs and goals.
Gum Disease
Also known as periodontal disease, gum disease is a condition that affects millions of people. Most often caused by an accumulation of harmful bacteria and plaque along and/or below the gumline, this ailment can cause significant tooth damage and has actually been linked to medical issues like diabetes, strokes, and even cardiovascular disease. While gum disease can never be fully cured, periodontal treatment can help control the problem and prevent it from worsening. At our practice, our dentists utilize LANAP™ (Laser Assisted New Attachment Procedure) technology, which is an effective and more comfortable alternative to traditional gum surgery.
Tooth Loss
In addition to affecting the appearance of the smile, missing teeth can often make simple actions like speaking clearly and chewing properly become more difficult. Furthermore, when left untreated, a missing tooth can eventually lead to more significant issues like jawbone deterioration, shifting of existing teeth, and even a gradual alteration of facial structure. Fortunately, our practice offers many solutions to one or multiple missing teeth. Some of the most common missing tooth replacement options include crowns, bridges, dental implants, implant-supported dentures, and full mouth restoration. Based on your oral health and number of teeth missing, our team can help identify and employ the most effective solution for you.
Ill-Fitting Dentures
For many individuals, traditional dentures can be incredibly uncomfortable and inconvenient. Oftentimes, the dentures themselves fit poorly, and the messy adhesive meant to provide stability does little to keep the dentures from shifting while eating or speaking. If you are suffering from the effects of ill-fitting traditional dentures, our practice offers an excellent solution in the form of implant-supported dentures. With this advanced treatment, your dentures will be supported by dental implants that are anchored in your gum tissue, ultimately providing a more comfortable and secure fit. Options such as regular implant-supported dentures, All-On-4® Anchored Dentures, and Prettau® Implant Bridges—all of which are available at Dr. Victor Oelbaum & Associates—have helped numerous denture-wearing patients eat, speak, and smile with confidence once again.
Dental Implant Complications and/or Failure
Dental implants are considered the premier tooth replacement solution for the majority of individuals. Unfortunately, there are instances in which complications may arise from previously placed implants, whether it is soon after treatment or later down the road. Some of the most common dental implant failures include infection, loose and/or poorly fitting implants, nerve impairment, puncture of other body cavities/structures, and loss of dental implants. These issues can be caused by a variety of different factors, but they are most often related to the improper placement of dental implants by an inexperienced or unqualified dental practitioner.
The good news is, dental implant complications and failures can often be corrected via retreatment for many individuals. Our team is highly experienced and skilled in controlling infections, removing ill-fitting implants, and successfully placing new implants—even in the most complex of cases. If it is determined that dental implant retreatment is not right for you, we can also recommend and perform an alternative tooth replacement option that helps safely and effectively restore both form and function to your teeth.
Multiple Dental Issues—Comprehensive Treatment
If you are experiencing multiple dental issues (including, but not limited to, those listed above), a full mouth restoration can often be performed to comprehensively address each of your concerns. By employing a customized combination of cosmetic and restorative dentistry procedures, our team can restore complete function to your teeth while enhancing the aesthetics of your smile and optimizing your overall oral health.
Contact Dr. Victor Oelbaum & Associates
The dental problems listed above are simply a few of the many oral issues our practice can help elderly patients treat. If you did not see your specific concern, or if you would like more information about any of the senior dental care options highlighted on this page, please do not hesitate to contact our practice today to schedule an appointment.