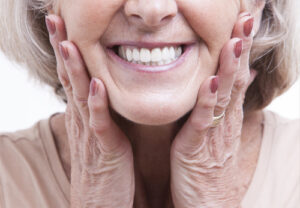 Do you struggle with ill-fitting dentures, messy adhesives, and an impaired ability to chew or speak? Traditional dentures can be as uncomfortable as they are inconvenient. At Dr. Victor Oelbaum & Associates, we can replace your traditional dentures with dentures that are supported by dental implants for a more secure and comfortable fit. As an added advantage, implant-supported dentures are designed to fully restore the function of your teeth while giving your smile a beautiful, natural appearance.
Benefits of Implant-Supported Dentures
The key to the success of implant-supported dentures, also known as implant-anchored dentures, is a set of titanium posts implanted into the gum tissue. These titanium posts can eventually fuse to the jawbone and allow your denture to snap firmly into place, eliminating the need for adhesives and providing a more comfortable, secure fit. This advanced prosthodontics technique can provide benefits including:
Greatly reduced slippage along the gum line

Minimized gum irritation

Zero adhesives

Improved comfort

Natural look and feel
In addition, patients who are not eligible for a full set of dental implants due to insufficient jawbone density are often good candidates for implant-supported dentures.
Implant-Supported Dentures Options
At Dr. Victor Oelbaum & Associates, we offer several types of implant-supported dentures so you can select the option that can best meet your needs:
Traditional implant-supported dentures

All-On-4® Anchored Dentures

Prettau® Implant Bridges
During the consultation process, your dentist will discuss the unique advantages of each type of implant-supported denture and help you decide which treatment plan can achieve your oral health and cosmetic goals.
Implant-Supported Dentures Procedure
Implant-supported dentures are considered a minimally invasive procedure and can often be completed within a single office visit. After your dentist strategically places the set of titanium posts along your gum line, your custom denture can be fastened into place. The length of the procedure will vary from case to case, but the recovery and downtime from the implant-supported denture procedure are usually quite minimal. With proper care and maintenance, your implant-supported dentures can give you decades of confident, beautiful smiles.
Contact Us
For more information on implant-supported dentures, or to schedule a consultation with one of our dentists, please contact our office today.