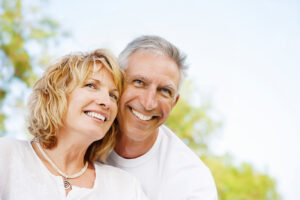 Dental implants offer permanent, natural-looking alternatives to dentures. This innovative treatment replaces missing teeth with an implant that actually becomes part of your mouth, giving you both functional and aesthetic improvement with replacement teeth that look and feel natural. With dental implants, there is no slipping and no need for daily maintenance other than your normal brushing and flossing routine. Dr. Victor Oelbaum and Associates can restore your normal lifestyle and rejuvenate confidence with dental implants.
Please contact Dr. Victor Oelbaum and Associates to for more information on dental implants. Our practice is convenient to the Bronx, New York City, and the surrounding region.
Implant Dentistry
Missing teeth can not only affect a person's appearance, they can also cause difficulty with chewing and speaking and have a negative impact on one's livelihood. Although traditional dentures have been reliable treatments for missing teeth for many years, they do have some significant disadvantages. Many partial and full sets of dentures can be ill-fitting and prone to slipping, and creating a precise fit for the patient's mouth can often be difficult. Dental implants have changed all that. Implant dentistry offers a permanent fix for missing teeth with results that both look and feel natural. Dental implants are custom-made, durable teeth replacements that do not slip and pose less risk of gum irritation. They are designed to become permanent fixtures to your mouth, as if you'd never lost the tooth at all.
The Dental Implant Procedure
The dental implant procedure begins with an evaluation of your mouth to ensure you have strong enough bone density to accommodate the implant. Once it has been determined that you are a candidate for the procedure, our periodontist will place a thin rod underneath the gum in the area of the missing tooth. This strong titanium rod will fuse itself to the jaw within a four month period of time. A temporary crown can be placed over the rod during this period. After the fusion is complete, the implanted rod has become a permanent part of your mouth, and is ready for a permanent crown to be attached over the gum. Dr. Victor Oelbaum and Associates can then have a porcelain dental crown custom-designed for you. He will affix the crown over the rod and color-tint it so that it blends in with your natural teeth.
After the crown is placed, your dental implant procedure is complete and your new tooth should look and feel natural, improving your appearance as well as your ability to chew and speak. And best of all, the results are permanent.
Please contact Dr. Victor Oelbaum and Associates today for more information on dental implants and how you can effectively and permanently replace missing teeth.