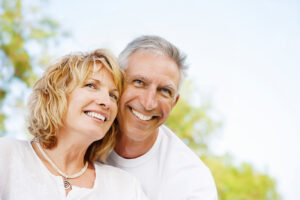 Dental implants offer permanent, natural-looking alternatives to dentures. This innovative treatment replaces missing teeth with an implant that fuses with your jaw to become part of your mouth, giving you functional and aesthetic improvement with replacement teeth that look and feel natural. With this modern restorative dentistry treatment, there is no slippage along the gums or daily maintenance required, other than your normal brushing and flossing routine. Our cosmetic dentist, Victor Oelbaum, DDS, can restore your bite and enhance your confidence when eating and smiling with dental implants.
Please contact Dr. Victor Oelbaum & Associates for more information on dental implants. Our practice is convenient to the Bronx, New York City, and the surrounding region.
How Do Dental Implants Work?
A dental implant is composed of three parts: a titanium post, an abutment, and a restoration. The titanium post is designed to mimic the function of a natural tooth root, while the restoration (usually a dental crown or bridge) serves as the visible body of the tooth. During the dental implant procedure, the post is surgically affixed to the gumline and left to integrate with the jawbone for a period of several months.
Once the post successfully fuses with the jawbone, an artificial tooth (or teeth) is custom-made and attached to the implant via the connecting abutment. Put together, the new replacement tooth should look and feel like a natural part of your smile. In this way, a dental implant can not only restore your smile and ability to bite, but it also works to stimulate the jawbone and prevent bone recession. Due to these functional and aesthetic benefits, an implant is considered by many dentists to be the best tooth replacement option available.
What are the Benefits of Dental Implants?
Missing teeth can not only affect a person's facial appearance, but also cause difficulty with chewing and speaking. Absent spaces between teeth can have a negative impact on one's health, increasing the risk of oral diseases as well as causing remaining teeth to shift and misalign. Although traditional dentures have reliably treated missing teeth for many years, they have distinct disadvantages. Creating a precise fit can often be difficult, and many partial and full sets of dentures can be uncomfortable to wear. Additionally, removable dentures are prone to slipping along the gums, causing irritation and insecurity when speaking or chewing. Dental implants provide an effective solution for the limitations presented by traditional dentures, offering permanent, secure replacements that look and feel natural. Dental implants are durable, custom-made tooth replacements that are affixed to your mouth and pose less of a risk of gum irritation.
Who is a Candidate for Dental Implants?
Dental implants are best suited for individuals with an adequate amount of bone density to securely anchor the implant to the jaw. This ensures the implant can successfully fuse to the bone and feel like a natural part of your mouth. Other factors that may determine your candidacy for the dental implant procedure include whether:
You wish to receive permanent tooth replacements
You have one or several missing teeth and/or severely damaged teeth
Your gum tissue is reasonably healthy enough to heal properly around each implant
You do not have any medical conditions that might impede the healing process
You are not currently undergoing radiation and/or chemotherapy treatment
One of our experienced dentists at Dr. Victor Oelbaum & Associates can help determine whether you are an ideal candidate for this procedure.
Types of Dental Implants
Dental implants can be used to replace anything from a single absent space to a full dental arch. Due to the aesthetic beauty and unmatched security offered by dental implants, they are often considered the gold standard in tooth replacement. The number of implants necessary to achieve your treatment goals will usually depend on how many teeth need replacing and the state of your bone structure.
Single Tooth Implants
For individuals seeking to replace a single missing tooth, a dental implant can be an ideal way to restore structural support and an even smile. The process involves insertion of a thin post underneath the gum tissue of the absent tooth, which will later anchor a custom-fabricated dental crown once the implant has fused with the jawbone. Tinted to match the shade of your enamel and crafted to fit comfortably within your bite, the dental crown is designed to exactly mimic your natural tooth for an indistinguishable and high-quality replacement.
Multiple Teeth Dental Implants
Three or more consecutive missing or damaged teeth can be replaced with multiple adjoining dental implants that fill the entirety of your absent space. Once the implants have merged with your bone structure, custom-designed dental crowns can be placed over the individual implants for a strengthened bite and renewed smile aesthetic. Depending on the amount of bone density you have retained, your treatment may involve securing a custom-made restoration—such as a dental bridge or a partial denture—with anywhere from two to six dental implants.
Implant Dentures
If you have been told you are not a good candidate for full dental implants, or if you have several adjacent missing or damaged teeth you would like to replace, please inquire about our implant supported dentures procedure. This advanced technique can be an excellent solution for many individuals seeking to restore form and function to their smile with natural-looking results. An option that many patients prefer over traditional dentures, implant-supported dentures are anchored to your jawbone. This security can allow a more comfortable fit for the restoration when compared to loose dentures, while canceling the need for messy pastes and adhesives. The dentures snap firmly in and out of place so you can feel more confident when eating, drinking, and speaking.
How is the Dental Implant Procedure Performed?
The dental implant procedure begins with an evaluation of your mouth to ensure you have the strong bone density necessary to accommodate the implant. Once it has been determined that you are a candidate for the procedure, our periodontist will place a thin post underneath the gum in the area of the missing tooth. This strong titanium post will fuse itself to the jaw within a four month period. A temporary crown can be placed over the rod during this period. After the fusion is complete, the implanted rod has become a permanent part of your mouth and is ready for a permanent dental crown to be attached over the gum. Your dentist can then have a porcelain dental crown custom-designed for you. Once prepared, he or she will affix the crown over the rod and color tint it so it blends in with your natural teeth.
After the crown is placed, the dental implant procedure is complete and your new tooth should provide a natural fit, improving your appearance as well as your ability to chew and speak. Best of all, results from a dental implant procedure are permanent.
What is the Recovery Process Like for Dental Implants?
While your soft tissue heals, there is typically little to no downtime associated with a dental implant procedure. The normal length of time required for the implant to fuse with your jawbone is approximately 4-6 months. If you experience any discomfort during this time, it can generally be alleviated with pain medication. For any additional concerns, please contact our practice to speak to a friendly member of our team.
How Long Do Dental Implants Last?
Dental implants are essentially designed to function like natural teeth, so their longevity is comparable to how long your natural enamel remains in good condition. As long as you practice good daily oral hygiene, dental implants often last for 15 to 20 years, even decades. However, just like your natural teeth, dental implants will start to decay with plaque and bacteria buildup. To get the most out of your implants, always brush and floss everyday in conjunction with undergoing semi-annual examinations and cleanings.
How Much Do Dental Implants Cost?
The entire team at Dr. Victor Oelbaum & Associates understands that restoring the full integrity of your smile, as well as your confidence, is invaluable. We understand that the cost of any procedure is a major consideration that can influence your choice to undergo treatment. While the price of dental implants is unique to each patient's needs, our dentists have outlined several key factors that generally affect the total cost of treatment and can help you make a well-informed decision.
Generally speaking, the cost of dental implants will depend on:
The expertise of your cosmetic dentist
The geographic location where your treatment is performed
The number of implants placed
The location of the implants
The complexity of your procedure
The type of implants used
Fees for necessary dental treatment to improve bone density or oral health
Insurance coverage
With this in mind, patient reviews on RealSelf.com generally list the average price of dental implants in the Bronx area to be approximately $6,575 per implant. While this serves as a rough estimate, the true cost varies heavily and will predominantly depend on the details of your treatment plan. After your needs are evaluated during a consultation, our office will be able to provide you with a more personalized quote. We believe no patient should have to compromise their ability to receive necessary dental care for financial reasons, which is why we accept many different payment methods, as well as insurance plans and financing options. If you have any concerns, please don't hesitate to contact our office; we can work with you to help bring the total cost of treatment into your budget.
Is a Dental Implant Procedure Painful?
Because this procedure typically utilizes local anesthesia, patients generally feel little to no discomfort during treatment. While our dentists strive to make your dental experience as comfortable as possible, we understand that some patients have dental anxiety and can be apprehensive about receiving implants. Our doctors and staff are committed to taking steps to alleviating any possible discomfort you may feel during treatment, so please don't hesitate to raise your concerns with a member of our team.
How Can I Care For My Dental Implants?
Much like natural teeth, dental implants require no additional maintenance besides daily oral hygiene habits, such as brushing and flossing. By maintaining good overall health and undergoing routine check-ups and dental cleanings, your implants can remain in great condition for decades.
Dr. Victor Kagan, our extensively experienced implant dentist, authored an article in the Compendium of Continuing Education in Dentistry (CCED) about how the implant-tooth distance of dental implants in molar sites may affect the formation of decay. Please feel free to read the full study here.
Are There Alternatives to Dental Implants?
Although they are often considered the go-to replacement solution for missing teeth, dental implants may not be the best choice for every patient. Dr. Oelbaum and our team of dentists also offer less invasive treatments to replace teeth, such as custom-made dental bridges. These restorations can be used to replace a single tooth or multiple consecutive teeth, often providing a natural and comfortable fit without oral surgery. Dental bridges are designed to fill or "bridge" the gap left by missing teeth to restore your smile and proper biting function. They are secured in place using dental crowns, which are situated on top of adjacent healthy teeth. Bridges can provide a high-quality restoration that blends in seamlessly with your smile and prevents the shifting of surrounding teeth, offering patients an additional treatment option to address lost teeth.
How Do I Choose the Right Implant Dentist?
Dental implants are advanced restorations that require a skilled team of oral surgeons, periodontists, cosmetic dentists, and ceramists to achieve a natural look and feel. There is a big difference between a dentist who offers dental implants and a specially trained implant dentist, so a little research can go a long way in ensuring you are under the care of a dental professional who is able to provide you with an effective and long-lasting restoration. Before your treatment, be sure to learn about your prospective dentist's education, training, and experience with placing dental implants. Read patient reviews, and schedule a consultation to discuss the implant procedure in person. This can give you a good idea of your dentist's qualifications and your ability to entrust them with your care.
Our in-house periodontist, Dr. Victor Kagan, is experienced in all disciplines related to implant dentistry, including oral surgery, prosthodontics, and prosthetics. Having completed a post-graduate implant fellowship focused exclusively on the different stages of tooth replacement, Dr. Kagan is well-versed in the latest restorative dentistry techniques that can achieve the best possible results. With collaboration from the multi-specialty team at our Bronx practice, Dr. Kagan and our dentists are uniquely qualified to perform your implant procedure.
Additional Dental Implant FAQs
How long does dental implant treatment take?
Treatment times vary according to a patient's treatment plan. Factors that can affect the length of your care include how many implants are being placed, whether you require a bone graft, whether teeth are being extracted, and the overall complexity of your procedure. During your consultation, our dentist will thoroughly discuss what you can expect throughout the process, including the estimated duration of treatment.
Is there dental insurance for implants?
Insurance may cover some of the costs associated with implants, but this possibility depends on the details of your unique dental plan. Every insurance policy varies, so we encourage you to reach out to your provider to learn all the benefits of your coverage. At Victor Oelbaum & Associates, we also accept low- to no-interest financing from CareCredit® to help you manage out-of-pocket costs.
Are dental implants safe?
Dental implants are considered very safe tooth restorations when they are placed by an experienced team of dentists, periodontists, and oral surgeons. They are often regarded as the longest-lasting and most reliable method of tooth replacement, and typically present little risk of failure as long as patients are good candidates for oral surgery. In determining whether implants are the best possible option to restore your teeth and bite, our dental professionals will meticulously measure your bone density, review your medical history, and evaluate your oral health. We will utilize x-rays, diagnostic imaging, and other dental technology to help ensure safe and successful placement of your dental implants.
Will I need a bone graft?
A bone grafting procedure may be necessary if you do not have enough bone volume to support your dental implants. The roots of your teeth work to stimulate and strengthen your jawbone, therefore the density of the bone can gradually recede with the absence of a natural tooth root. Bone grafts can be an effective way to regenerate new bone and provide a more stable foundation for your implants. A consultation with one of our dentists can confirm whether or not you need a bone graft prior to dental implant treatment. It is usually true that the longer a tooth root is missing from the gumline, the more bone erosion is experienced.
What is the success rate of dental implants?
Dental implants enjoy a high success rate of approximately 95 percent. This figure varies depending on the oral health of the patient and where the implant is placed in the jaw, but the ability of dental implants to effectively restore missing teeth for the long-term future is generally very high.
How long after getting dental implants can I eat normally?
After oral surgery, patients should treat their implant with as much care as possible while the gums are still healing. A liquid and soft-food diet is advised immediately after numbness from your procedure wears off. To reduce the need for chewing and prevent potentially disturbing the implant, this diet should be maintained for at least the first week or two after surgery. As the healing process progresses, you should gradually be able to enjoy a more varied diet, although foods that are sticky, crunchy, tough, or abrasive should be avoided for the next two to four months. Using a straw is also prohibited until your implant is more securely integrated with the jawbone. Your dentist will be able to provide you with additional details regarding what foods you can eat throughout every stage of your recovery timeline.
Are dental implants as strong as real teeth?
Since implants are firmly anchored to the jawbone, they can often withstand pressure to a similar extent as natural teeth, provided that they're successfully integrated with your bone structure. That said, an implant can still fail if it's weakened by decay and gum disease, or if too much pressure is applied before the implant can fully fuse with the jawbone. While an implant can be incredibly durable, you should always take care to avoid unnecessary damage to your restoration. Wearing a mouth or night guard when necessary, and maintaining good oral hygiene habits, can help you enjoy long-lasting results with your dental implant.
Can you have dental implants if you have periodontal disease?
It's vitally important that your oral health is in the best possible state before undergoing implant surgery. That said, bacteria buildup in the gums is one of the main factors known to lead to implant failure if left untreated. Therefore, if you have signs of gum disease, periodontal treatment should be completed before you can safely receive dental implants to restore a clean, healthy mouth.
Can I get a full mouth of dental implants?
If you have entire rows of missing teeth, an implant-supported denture is typically the best option to restore your upper and/or lower dental arches. While getting a full mouth of dental implants is possible, this requires extensive oral surgery as well as bone support that is not always available. In most cases, a more effective and economical option involves using dental implants to secure a set of custom-made dentures. This makes it possible to successfully restore your smile using a few strategically placed implants, rather than replacing each missing tooth with an individual implant.
Can you whiten dental implants?
A porcelain crown or bridge is typically used to top a dental implant, both of which cannot be professionally whitened or stained. Fortunately, porcelain restorations are color-matched to the shade of your surrounding teeth to ensure they remain indistinguishable within your smile.
Please contact Dr. Victor Oelbaum & Associates today for more information on dental implants and how you can effectively and permanently replace missing teeth.