What are the Benefits of an Early Orthodontic Screening?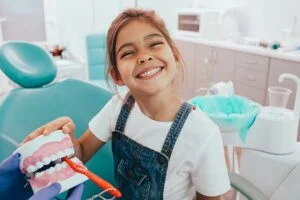 While most adolescents don't start orthodontic treatment until their pre-teen or teenage years, there can be substantial advantages to having your child evaluated for braces early on. The American Association of Orthodontists generally recommends taking your child for a screening no later than the age of seven to identify developing issues and potentially prevent existing problems from worsening. By having the positioning of the teeth and jaws evaluated before a child becomes a teenager, your orthodontist may also be able to achieve results that would not have been possible after the majority of jaw growth has been completed. 
Even if your child's teeth appear to be straight, an early orthodontic screening can allow your orthodontist a chance to: 
Guide proper positioning of the upper and lower jaws
Potentially correct biting issues (overbite, underbite, etc.) before they become too severe
Improve the way the lips come together
Enhance their facial appearance
Reduce or eliminate the need for more invasive or complicated treatment in the future
If your child's screening indicates they would benefit from more immediate treatment, our practice offers many options for child orthodontics that can be more comfortable and less noticeable than traditional metal braces. Our team can develop an ideal solution for your child based on a discussion of their needs and preferences. 
At Dr. Victor Oelbaum & Associates, our gentle and highly skilled orthodontist can assess your child's dental needs to determine whether early intervention now may reduce the need for more extensive treatment as they grow older. Contact our Bronx office today to schedule an appointment at our practice, or to book a complimentary virtual orthodontic consultation.