Dr. Victor Kagan Officially Published in January 2021 Issue of the Compendium of Continuing Education in Dentistry (CCED)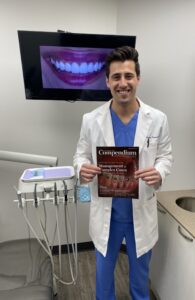 As a dentist actively involved in many aspects of scientific research, our highly skilled implant specialist — Victor Kagan, DDS — authored an extensive study exploring the relationship between tooth decay (caries) and the proximity of molar dental implants to adjacent teeth. Dr. Kagan's research was recently accepted by the Compendium of Continuing Education in Dentistry (CCED) and published in their first issue of the year! Given the scientific quality of the academic journal, the publication of Dr. Kagan's study emphasizes his dedication to advancing the field of implant dentistry.
The Compendium of Continuing Education in Dentistry is a peer-reviewed journal that focuses on technique-oriented studies, which can be utilized by clinicians to improve their protocols and patient outcomes. Considered one of the leading research publications in dentistry, CCED is indexed by PubMed® — a national database for scientific and medical literature. The inclusion of Dr. Kagan's study in the prominent academic journal only highlights his commitment to ongoing education, scientific research, and keeping abreast of the latest, most effective techniques in restorative dentistry.
To read the full results of Dr. Kagan's article, please click here. If you are missing teeth or you would like to improve the health and beauty of your smile, our Bronx dental practice would be happy to meet with you and formulate a plan to achieve your goals. Please contact Dr. Victor Oelbaum & Associates to schedule a consultation or to learn more about our services.