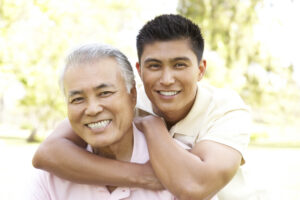 At our practice, our experienced dentists offer the latest, most effective restorative dental procedures designed to improve the form and function of your teeth. Customized to meet your specific needs and goals, our restorative dental offerings can be used to replace missing teeth, treat cavities and decay, strengthen damaged teeth, prevent future complications, and more. Ultimately, our mission to restore the health and appearance of your teeth while helping you achieve a beautiful, radiant smile.
Please contact Dr. Victor Oelbaum & Associates for more information, or to schedule an appointment.
Porcelain Crowns
Porcelain crowns can be highly effective dental restorations that repair and/or support damaged, weak, or cracked teeth. Made from metal-free porcelain materials, dental crowns have a number of uses, including protecting the tooth structure, anchoring a dental bridge, topping an implant, and repairing chipped or stained enamel. They are crafted to match the shape and color of your surrounding teeth to appear indistinguishable among the rest of your smile. Best of all, porcelain crowns are typically very durable and long-lasting with good care.
Learn More About Porcelain Crowns
Dental Implants
Dental implants are considered the gold standard for replacing missing or damaged teeth with virtually permanent results. An implant is a thin, titanium post that is shaped like a natural tooth root. It is designed to integrate with your jawbone, after which a custom-designed dental crown is attached to the implant. Thanks to the implant's ability to fuse with the supporting bone, these restorations can look and feel like a natural part of your mouth. Dental implants can be utilized to replace an individual tooth, consecutive missing teeth, or a complete dental arch.
Learn More About Dental Implants
Implant-Supported Dentures
Implant dentures can be a more stable, secure, and comfortable alternative to traditional dentures that require messy pastes and adhesives to stay in place. During treatment, a custom-designed upper and/or lower denture set is secured to the jawbone with a series of strategically placed dental implants. The dentures can then snap in and out of place for improved confidence when eating, drinking, or speaking. With the ability to restore both form and function, patients typically report that implant-supported dentures minimize discomfort, instability, and gum slippage.
Learn More About Implant-Supported Dentures
All-on-4®
All-on-4® is an innovative treatment concept that involves the use of four dental implants in an arch to support a denture. The procedure can replace the upper and/or lower arch to restore the form and function of a patient's teeth. All-on-4® makes use of the available jawbone by tilting the two implants towards the back of the mouth at a slight angle. This allows for an increased ability for the implants to fuse with the existing bone structure, when the patient may otherwise not be able to achieve the secure foundation needed for an implant denture.
Dental Bridges
A dental bridge is another tooth replacement option for patients with gaps in their smile. These restorations are composed of one or more artificial teeth crafted to fill the expanse of an absent space. The bridge is usually secured in place using dental crowns bonded to healthy neighboring teeth, restoring the look of a full, healthy smile while improving the ability to bite and chew. When affixed with dental crowns, the restoration is called a "fixed bridge." Unlike dental implants, bridges have the advantage of not requiring oral surgery to stay rooted; however, a dental bridge anchored with implants rather than dental crowns is often an effective treatment option for individuals seeking a longer-lasting solution than fixed bridges.
Learn More About Dental Bridges
Full Mouth Restoration
With a full mouth restoration, multiple dental concerns can be addressed simultaneously. Through a customized treatment plan, our skilled dentists can help to restore form and function to your teeth. A full mouth restoration typically includes a combination of various cosmetic and restorative procedures, such as dental implants, porcelain veneers, and porcelain crowns.
Learn More About Full Mouth Restoration
For more information about our restorative dentistry offerings, or to schedule an appointment at our office, please contact us today.