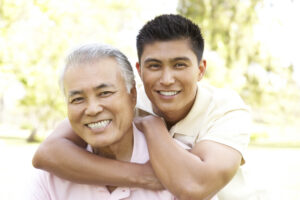 At our practice, our experienced dentists offer the latest, most effective restorative dental procedures designed to improve the form and function of your teeth. Customized to meet your specific needs and goals, our restorative dental offerings can be used to replace missing teeth, treat cavities and decay, strengthen damaged teeth, prevent future complications, and more. Ultimately, our mission to restore the health and appearance of your teeth while helping you achieve a beautiful, radiant smile.
Please contact Dr. Victor Oelbaum & Associates for more information, or to schedule an appointment.
Porcelain Crowns
Porcelain dental crowns can be an excellent solution for repairing and improving the appearance of damaged teeth. At our office, we often utilize porcelain crowns to restore chipped, cracked, or stained teeth, support and/or protect teeth weakened by decay, attach dental bridges, and cover dental implants. Created solely from porcelain materials, these effective restorations contain no metal and can be custom-designed to match the shape and color-tint of your surrounding teeth. Once attached, crowns provide strong support and natural-looking results, often indistinguishable from your natural teeth. Ultimately, porcelain dental crowns can help strengthen and improve both the function and appearance of your teeth with long-lasting results.
Learn More About Porcelain Crowns
Dental Implants
Dental implants can provide a permanent replacement solution for severely damaged and/or missing teeth. As an alternative to dentures, dental implants effectively act as tooth roots by fusing to your jawbone, essentially becoming part of your mouth. Once a porcelain crown has been placed over top, the restoration should look, feel, and function just like a natural tooth.
Learn More About Dental Implants
Implant Supported Dentures
Implant supported dentures can be a great option for securing loose dentures that tend to slip and shift as you eat, speak, and even smile. Additionally, this innovative procedure may be an effective alternative for patients who are not considered good candidates for full dental implants.
Learn More About Implant Supported Dentures
All-on-4®
All-on-4® is an innovative treatment concept that involves the use of four dental implants in an arch to support a denture. The procedure can replace the upper and/or lower arch to restore the form and function of a patient's teeth. All-on-4® makes use of the available jawbone by tilting the two implants towards the back of the mouth at a slight angle. This allows for an increased ability for the implants to fuse with the existing bone structure, when the patient may otherwise not be able to achieve the secure foundation needed for an implant denture.
Dental Bridges
Dental bridges are designed to fill spaces between your existing teeth, and can serve as effective teeth replacements. Composed of a small row of artificial teeth, dental bridges are removable and look natural. In addition to giving your teeth a better appearance, they are also able to help improve chewing and speaking as they are built to last and can prevent surrounding teeth from moving and shifting. The Fixed Bridge is the most popular type of dental bridge, made of an artificial tooth attached to two dental crowns. The Fixed Bridge is attached over your existing teeth, which hold the bridge in place. Dr. Oelbaum will evaluate your teeth and determine the best type of bridge to meet your needs and give you a vibrant new smile.
Learn More About Dental Bridges
Full Mouth Restoration
With a full mouth restoration, multiple dental concerns can be addressed simultaneously. Through a customized treatment plan, our skilled dentists can help to restore form and function to your teeth. A full mouth restoration typically includes a combination of various cosmetic and restorative procedures, such as dental implants, porcelain veneers, and porcelain crowns.
Learn More About Full Mouth Restoration
For more information about our restorative dentistry offerings, or to schedule an appointment at our office, please contact us today.