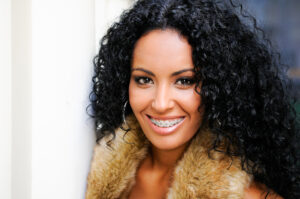 More and more adults are discovering that straightening their teeth is something that can be achieved discreetly and effectively, and that treatment can be performed at any age. Our experienced Bronx orthodontist, Dr. Nikhil Narkhede, offers an array of treatment options geared toward patients over 21 – treatments that utilize the latest technology and help patients avoid the negative aspects traditionally ascribed to metal braces.
An adult's jawbones are more mature than an adolescent's, so it may take a bit longer for the most effective results. However, with PROPEL® Orthodontics, our patients can expedite treatment significantly (often reducing treatment time by 30-60%). Dr. Narkhede can add PROPEL® to any orthodontic treatment offered at our practice.     
Treatment Options
Our practice offers a number of treatments that are designed to be inconspicuous while straightening the teeth or fixing bite issues. Plus, our practice offers Invisalign® clear teeth aligners – completely metal-free and removable appliances that work to progressively move your teeth into a more desirable position without anyone having to know you are undergoing treatment. Dr. Narkhede works with each patient to find an orthodontic treatment that can fit into their lifestyle while effectively treating their orthodontic issues. Along with PROPEL®, our patients can treat their bite and/or misalignment issues at an accelerated rate, regardless of which treatment option is selected.  
Invisalign®
For qualified candidates, Invisalign® can offer convenient and discreet orthodontic treatment. Using removable clear teeth aligners, Invisalign® works to correct a variety of orthodontic issues without the obvious metal brackets and wires of traditional braces. Invisalign® can be worn throughout the day without being noticeable to others, and is removable for easier brushing, flossing, eating, and drinking.
Traditional Braces
While more discreet options such as Invisalign® braces are preferred by many adults, traditional braces are still sometimes the best option in certain cases. Dr. Narkhede uses the most advanced materials available, including ceramic braces, which can often still provide a more subtle appearance during treatment.
PROPEL® Orthodontics
To minimize treatment time as much as possible, Dr. Narkhede offers PROPEL®, which can be used in combination with any orthodontic treatment option. PROPEL® is designed to accelerate treatment time by stimulating the bone structures surrounding the teeth. Gentle pressure is applied via micro-perforations, allowing for increased movement of the teeth. Most patients are able to complete orthodontic treatment in approximately 30-60% less time when PROPEL® is added.
Contact Us
To learn more about the different orthodontic treatments available for adults at our practice, or to schedule a personalized consultation with Dr. Nikhil Narkhede, please contact our office today.