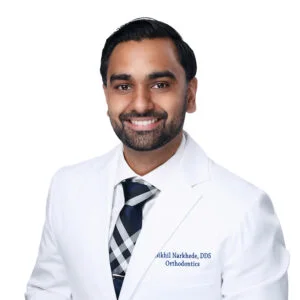 Dr. Nikhil Narkhede utilizes a variety of orthodontic systems to help patients obtain the beautiful smiles they deserve, including traditional metal braces, ceramic braces, and Invisalign® clear teeth aligners. Before joining our team at Dr. Victor Oelbaum & Associates, Dr. Narkhede graduated from the New York University College of Dentistry, where he obtained his Doctorate of Dental Surgery. Following his graduation, Dr. Narkhede continued his training at NYU with an extensive three-year postgraduate residency in Orthodontics & Dentofacial Orthopedics. Dr. Narkhede melds his passions for orthodontics and patient-centered care to provide patients with a truly customized plan to achieve their goals.
As an advocate of continuing education, Dr. Narkhede attends numerous courses and conferences to stay up-to-date with the most advanced orthodontic techniques. This ongoing education ultimately allows him to provide the best possible care and results for each patient's unique needs. He is a member of several professional organizations, including the:
American Association of Orthodontics
American Dental Association
American Board of Orthodontics
New York State Dental Association
In his spare time, Dr. Narkhede enjoys exercising, DJing for special events, performing magic, and spending quality time with his family and friends.
What is an Orthodontist?
An orthodontist is trained in a special branch of dentistry dedicated to correcting misalignments of the teeth and jaw. Orthodontists work to address a wide range of irregularities in the arrangement of your oral structures, from malocclusion (a poor bite) and overcrowding to aesthetic facial changes caused by bad jaw alignment. With extensive knowledge on the developing neuromuscular and skeletal facial anatomy, orthodontists are highly experienced in the detection, interception, and amelioration of biting issues. In conjunction with resolving the functional concerns caused by a poorly-aligned jaw—including speech problems, difficulty chewing, facial asymmetry, and TMJ Disorder symptoms—orthodontists also strive to create a beautiful, even smile for patients in the least obstructive way possible. This often involves employing cutting-edge orthodontic systems, such as Invisalign® and cosmetic braces, to straighten teeth for discreet, effective treatment.
When Should I Take My Child to an Orthodontist?
Your child should be screened for orthodontic treatment by the age of seven, which is typically when most children have begun to develop some permanent teeth. Early detection and evaluation of teeth and jaw misalignment can allow your orthodontist to detect any existing or developing biting issues and begin prompt treatment planning before such complications are exacerbated. After this comprehensive examination, your orthodontist can assess whether preliminary orthodontic appliances for your child are necessary, as well as determine the best time to start treatment in the event that intervention is required. In most cases, child orthodontics can decrease the risk of more complex problems arising in the future and, if appropriate, minimize the amount of time your child has to wear braces.
How to Choose an Orthodontist
In selecting a qualified orthodontist to treat your concerns, it is essential to choose an experienced professional who is attuned to the latest orthodontic technologies and well-equipped to address your unique needs. Given the range of available options at your disposal, our team has put together some tips to help you narrow your search:
Research their educational background. Ensure your prospective orthodontist has undergone the post-graduate training required of orthodontic specialists. While many general dentists offer orthodontic procedures, those who have studied under curriculum that is exclusively dedicated to malpositioning of the teeth and jaw can be more capable of developing a comprehensive treatment plan for your needs.
Learn about their credentials. What are your prospective orthodontist's professional affiliations? Membership to local, regional, and national organizations like the American Association of Orthodontics or the New York State Dental Association can speak volumes about how active and engaged he or she is within their profession.
Find out if they pursue continuing education. Newer and more effective ways to address malocclusion are discovered constantly, making it essential for orthodontists to stay up-to-date with the latest technology. Engagement in ongoing education courses typically conveys an orthodontist's commitment to providing the most comfortable and timely treatment possible.
Schedule a consultation. After conducting the necessary research, schedule a consultation with a prospective dentist to ultimately determine whether you feel confident in their ability to achieve your treatment goals. During this meeting, you should feel comfortable and assured that your concerns are being thoroughly addressed.
Ask questions. Ensure your orthodontist takes the time to keep you well-informed. Questions you can ask that may give you a better understanding of your potential treatment process include: What will my treatment entail? What distinguishes a given orthodontic system from others? Can you give me an idea of my treatment timeline?
Keep location in mind. Orthodontic treatment can be a long-term commitment, usually involving multiple appointments on a routine basis. Choose a practice whose location is convenient for you, and then make sure your prospective orthodontist plans on staying at that particular location for the duration of your treatment.
If you would like more information on our orthodontic options, or if you would like to schedule a consultation with Dr. Narkhede, please contact our practice today.