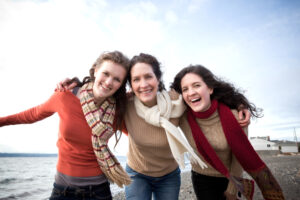 Orthodontic treatment options from Victor Oelbaum & Associates include a variety of procedures designed to straighten your teeth, correct bite issues, and give you a more beautiful smile. Technological advances in orthodontics, such as Invisalign®, clear and lingual braces, and ceramics now make it possible for you to bring your teeth into a more desirable position more comfortably and with greater discretion. Our NYC orthodontist will be happy to meet with you in a complementary consultation to talk with you about your options. Working together, we will create a customized treatment plan that can help you accomplish your goals with terrific results.
Please contact Victor Oelbaum & Associates for more information on our orthodontic options, or to schedule a consultation.
Benefits of Orthodontics
Orthodontic treatment provides a number of functional and aesthetic benefits to both adolescent and adult patients. These include:
Correction of teeth misalignment resulting in straighter teeth and a better-looking smile
Correction of over-bite, under-bite, and cross-bite issues
More self-confidence about the look of your smile
Less risk of developing serious dental spacing issues that may lead to permanent teeth extraction
Innovative orthodontic techniques that can work to correct problems less visibly and more comfortably
Results that can last for decades
With the many advances in orthodontic techniques that have taken effect over the years, patients all over the world have taken advantage of state-of-the-art treatment and successfully attained a straighter, more beautiful smile.
Treatment Options
An array of orthodontic treatment options can help you straighten your teeth and feel more comfortable during the process. Our office offers many different types of orthodontic techniques, from metal braces to clear braces; braces that affix to the back of the teeth; and clear plastic aligners that are virtually invisible to others. Here are a few of the options available at Victor Oelbaum & Associates.
Traditional Braces
Traditional metal braces have been the tried-and-true method of straightening misaligned teeth for decades, and through advances in orthodontics over the years, they have become even more effective, comfortable, and discreet. Mostly prescribed for patients who have significantly malpositioned teeth, metal braces are also usually more cost-effective and now come in a variety of sizes and types that are durable and more aesthetically pleasing.
Invisalign®

Invisalign® is one of the most innovative orthodontic treatment options to come along in some time. Using a system of clear plastic aligners, Invisalign® works to gradually pull the teeth into a straighter position in less time than it takes traditional metal braces to work. Plus, they can be removed for eating, drinking, and brushing and flossing.
Child Orthodontics
Orthodontic treatment at an early age can not only guide and straighten permanent teeth as they come in, but it can also help improve self-confidence and esteem levels for your child throughout their adolescence. We offer a variety of orthodontic treatments for children that can be both effective and cosmetically-appealing.
Learn More About Child Orthodontics
Adult Orthodontics
No matter your age, orthodontics can be an effective solution for straightening spaces, gaps, and misalignments in your smile. Additionally, orthodontics can also fix bite issues, such as underbites and overbites. Our office offers multiple adult orthodontic treatments, including options designed to straighten your teeth and/or improve your bite both quickly and discreetly.
Learn More About Adult Orthodontics
Contact Dr. Victor Oelbaum & Associates
To learn more about any of our orthodontic treatments, or to schedule an appointment, please contact our office today.