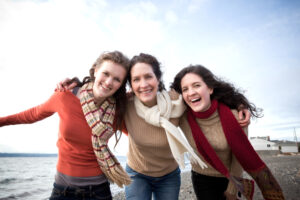 Orthodontic treatment options from Dr. Victor Oelbaum & Associates include a variety of procedures designed to straighten your teeth, correct bite issues, and give you a more beautiful smile. Technological advances in orthodontics, such as Invisalign®, clear braces, and ceramics now make it possible for you to bring your teeth into a more desirable position more comfortably and with greater discretion. Our NYC orthodontist will be happy to meet with you in a complimentary consultation to speak with you about your options. Working together, we will create a customized treatment plan that can help you accomplish your goals with terrific results.
Please contact Dr. Victor Oelbaum & Associates for more information on our orthodontic options, or to schedule a consultation.
Benefits of Orthodontics
Orthodontic treatment provides a number of functional and aesthetic benefits for both adolescent and adult patients. These include:
Correction of teeth misalignment resulting in straighter teeth and a better-looking smile
Correction of overbite, underbite, and crossbite issues
More self-confidence in your smile
Less risk of developing serious dental spacing issues that may lead to permanent teeth extraction
Correction of problems less conspicuously and more comfortably
Results that can last for decades
With the many advances in orthodontic techniques that have taken effect over the years, patients have taken advantage of these state-of-the-art treatments and successfully attained a straighter, more beautiful smile.
What are My Orthodontic Treatment Options?
An array of orthodontic treatment options can help you straighten your teeth and feel more comfortable during the process. Our office offers many different types of orthodontic techniques, from metal braces to clear braces; braces that affix to the back of the teeth; and clear plastic aligners that are virtually invisible to others. Here are a few of the options available at Dr. Victor Oelbaum & Associates.
Traditional Braces
Traditional metal braces have been the tried-and-true method of straightening misaligned teeth for decades, and through advances in orthodontics over the years, they have become even more effective, comfortable, and discreet. Mostly prescribed for patients who have significantly malpositioned teeth, metal braces are also usually more cost-effective and now come in a variety of sizes and types that are durable and more aesthetically pleasing.
Invisalign®

Invisalign® is one of the most innovative orthodontic treatment options to come along in some time. Using a system of clear plastic aligners, Invisalign® works to gradually pull the teeth into a straighter position in less time than it takes traditional metal braces to work. Plus, they can be removed for eating, drinking, and brushing and flossing.
Child Orthodontics
Orthodontic treatment at an early age can not only guide and straighten permanent teeth as they come in, but it can also help improve self-confidence and esteem levels for your child throughout their adolescence. We offer a variety of orthodontic treatments for children that can be both effective and cosmetically-appealing.
Learn More About Child Orthodontics
Adult Orthodontics
No matter your age, orthodontics can be an effective solution for straightening spaces, gaps, and misalignments in your smile. Additionally, orthodontics can also fix bite issues, such as underbites and overbites. Our office offers multiple adult orthodontic treatments, including options designed to straighten your teeth and/or improve your bite both quickly and discreetly.
Learn More About Adult Orthodontics
How Long Do Braces Take to Straighten Teeth?
The amount of time it takes to straighten your teeth depends on the type of orthodontic system utilized and the nature of your treatment plan. On average, most orthodontic treatments can achieve a patient's goals within 9 to 12 months. This timespan may vary based on the extent of your concerns. If your teeth are simply crooked or misaligned, you may complete treatment faster than you would if your needs included correcting a poor bite. In either case, our dentist and orthodontist will fully inform you of what to expect with regard to your treatment timeline during a consultation.
If you opt to undergo the PROPEL® system in conjunction with your orthodontic treatment, you may be able to accelerate your treatment time by 30 to 60 percent! This technique is designed to stimulate faster movement of your teeth through tiny micro-perforations in your bone structures, which exert gentle pressure to guide your teeth into the proper positioning. PROPEL® can be combined with any other orthodontic system, and Dr. Nikhil Narkhede can assess your needs to determine whether this technique may be effective for you.
Do Braces Hurt?
Thanks to significant advances in cosmetic dentistry, there are many teeth-straightening systems available at our Bronx practice that can achieve your orthodontic goals more comfortably than ever. Treatment options like Invisalign® clear aligners are specifically designed to be as unobtrusive to your daily life as possible, even offering the benefits of a removable aligner system. Even our traditional wire-and-bracket braces can be made with ceramic material to eliminate the discomfort and gum inflammation often associated with metal. While patients may feel the light pressure of their teeth being gradually repositioned, this sensation is not usually described as painful—on the contrary, it can actually be a good indication that your treatment is working.
How to Brush and Floss With Braces
Keeping your teeth clean and healthy can be very simple with the braces offered at Dr. Victor Oelbaum & Associates. The best way to brush and floss your teeth during treatment varies according to which orthodontic system is selected. For ceramic and metal braces, our orthodontist will provide a small threading device that will allow you to easily floss under the wires and brackets attached to your teeth. Use of a Pikster® and/or Waterpik® can also make it easier to extract food debris from between the braces. You may then brush your teeth as you normally would. With Invisalign®, your aligners can simply be removed and set aside while brushing and flossing your teeth.
To learn more about any of our orthodontic treatments, or to schedule an appointment, please contact our office today.