Dr. Victor Oelbaum is committed to providing his patients with the most advanced technology available in order to ensure the safest, most precise diagnosis and treatment possible. Our technology options are state-of-the-art tools for our dentists to give patients a more comfortable evaluation and treatment process – all with the goal of exemplary results and an overall positive experience.
Please contact Dr. Victor Oelbaum & Associates for more information on our dental technology and the many ways in which our advanced options can help you improve the health and appearance of your teeth and gums.
Cone Beam X-Ray – 3D Imaging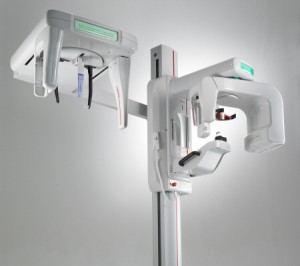 The Cone Beam X-Ray is one of the latest advances in dental imaging, giving both Dr. Oelbaum and our patients some of the most precise and accurate views of their teeth and any potential problems among the teeth and gums. Developed by Gendex, the Cone Beam X-Ray utilizes high-resolution image capture and dental mapping to provide an almost crystal-clear view of your teeth, helping to create a more accurate diagnosis and a customized treatment plan for a variety of dental issues.
With the Cone Beam, Dr. Oelbaum can view both 2D and 3D panoramic images of your teeth. When you view the images with him, Dr. Oelbaum can give you a more comprehensive overview of what's going on and talk with you about your treatment options. The image can be manipulated to show you virtually all areas of your mouth. For dental implant procedures, Dr. Oelbaum can clearly see where the nerves are and the amount of bone density present in the jaw. For prospective root canals, he can obtain a more precise view of the nerve structure in the affected tooth. The Cone Beam X-Ray is also beneficial in situations where the tooth may be fractured or cracked in some way, giving Dr. Oelbaum a much clearer and accurate look at the problem area.
This innovative new imaging technology is yet another way for Dr. Oelbaum and his experienced dentists to provide his patients with thorough diagnoses and a more comfortable and educational treatment process.
TRIOS® 3D Digital Scanner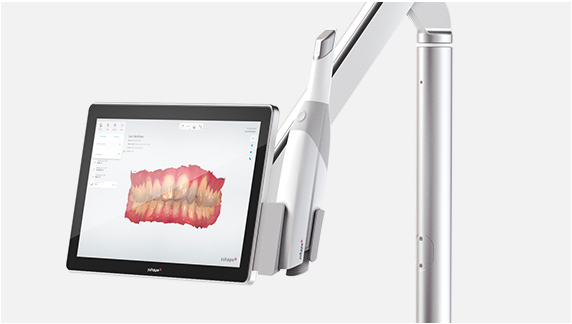 In order to gain a more realistic and detailed look at the teeth and gums, our dentists utilize the TRIOS® digital scanner. This wireless intraoral technology can allow us to achieve more accurate impressions of the teeth with a higher level of patient comfort and reliability than traditional plaster models. This cutting-edge three-dimensional scanner is capable of rendering digital impressions of your dental arches in real color, giving you the opportunity to better understand the state of your oral structures while our dentists can provide more precise diagnoses and treatment evaluations.
Plus, the easy scanning process has been known to reduce chair time for patients. Rather than deal with traditional impression materials, our dentist gently guides the handheld device along your teeth and gums while you are seated comfortably. In seconds, high-quality scans of your full dental arches as well as the palette of the upper jaw are captured in real time to aid and optimize the treatment planning process. The TRIOS® scanner can document implant positions with more precision, and even measure the exact shade of your enamel with more reliability than the human eye, among many other functions. This can be invaluable to orthodontic procedures, routine check-ups, and a number of other cosmetic, restorative, and prosthodontic treatments.
Our practice employs this technology to provide the most sophisticated oral care possible, as well as to create a more efficient and effective treatment experience.
LANAP Laser Technology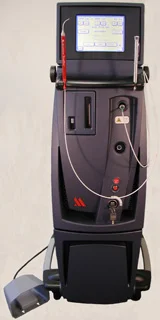 Our Bronx dentists use the advanced LANAP Laser Assisted New Attachment procedure to treat gum disease safely and effectively. This advanced technique eliminates the need for a scalpel and more invasive gum surgery procedures. With the LANAP laser, bacteria and diseased gum tissue can be meticulously removed using laser energy. Healthy tissue is left alone. Once the area has been removed of tartar on the tooth roots, the laser is used again to sterilize the treated areas and seal the gum pockets. The LANAP laser is also capable of helping to regenerate bone in the treatment areas. Patients typically have very little gum or teeth sensitivity after treatment, and any minor discomfort can often be alleviated with over-the-counter medication.
This state-of-the-art laser dentistry procedure can be a vital component in maintaining oral health and keeping your gums as free from bacteria as possible.
Microscope
The Dental Microscope is an effective tool our dentists use to magnify both the inside and outside of your teeth. With the Microscope, root canal therapy and other procedures can be more accurately performed, which can result in more rapid healing and improved results. The Dental Microscope can also allow for earlier diagnosis and treatment of dental problems, ultimately giving us the opportunity to provide you with a higher quality of care.
If you would like more information on our dental technology and how it can help to make your treatment more accurate, more comfortable, and more successful, please contact Dr. Oelbaum today.