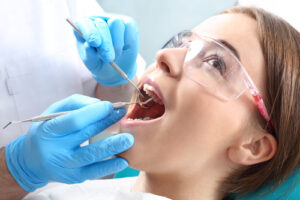 LANAP™, or the Laser-Assisted New Attachment Procedure (LANAP Nd:YAG™), allows our experienced dentists to treat periodontal disease more effectively than with traditional surgical methods. Additionally, this innovative laser gum treatment can offer a more comfortable experience for our patients at Dr. Victor Oelbaum & Associates while also accelerating the recovery period. Many of our patients are so pleased with their results, they recommend the procedure to their family and friends.
If you would like to schedule a consultation with one of our dentists to discuss periodontal disease treatment with the LANAP™ laser, please contact our office today.
Symptoms of Advanced Gum Disease
Signs of advanced periodontitis are generally more severe than the mild bleeding and swelling characteristic of early stage gum disease. If left untreated, the state of your gums can progressively devolve into more serious symptoms, such as:
Loose teeth, or separation of the teeth from the gums
Gums that look puffy, bright red, dark red, or purple
Pain when chewing or if the gums are touched
A constant bad taste in your mouth or bad breath
A change in your bite
The LANAP™ technique can also benefit patients who have an infection near a dental implant, which may be indicated by redness, tenderness, discoloration, discharge, or bleeding at the implant site. Among the many benefits of LANAP™ treatment is the ability to clean and sterilize the gums without invasive surgery.
What are the Benefits of the LANAP™ Laser?
The LANAP™ procedure for gum disease provides our patients with a number of advantages when compared to traditional surgical methods. With this cutting-edge laser technology, our experienced dental team can remove damaged gum tissue without harming the surrounding healthy tissues. Since the procedure is considered minimally invasive, some patients who cannot undergo surgery due to certain pre-existing medical conditions (such as diabetes, hemophilia, or HIV) may be good candidates for this laser gum treatment.
Additional benefits of the LANAP™ procedure can include:
Minimized discomfort and swelling
Bladeless procedure with no need for sutures
Minimal gum recession
Stimulated gum regeneration
Quicker, easier recovery compared to traditional surgical methods
Improved oral health
Improved overall health
Long-lasting results
This minimally invasive procedure is often an attractive alternative to traditional methods of periodontal treatment, and can be ideal for patients prone to dental anxiety. Periodontal disease is a serious condition that can cause significant health issues when left untreated. In addition to oral health concerns, there have been proven links between periodontal disease and conditions that can affect your overall health, such as respiratory infection, diabetes, heart disease, or stroke. The LANAP™ procedure allows our dentists to improve not only your oral health, but also help protect your general well-being.
Who is a Candidate for LANAP™?
LANAP™ laser treatment can restore healthy gums for individuals who show signs of moderate to advanced stage periodontal disease. For patients who only experience symptoms of gingivitis, the earliest stage of gum disease, robust oral hygiene habits are usually enough to eliminate bacteria buildup. That said, the LANAP™ laser can be especially useful for individuals who exhibit more advanced signs of gum disease and those who:
Have depths of at least 5 mm in their gingival pockets
Are affected by chronic medical conditions, such as diabetes, HIV, hemophilia, or other diseases that may complicate surgery
Potentially have an infection around a dental implant
Dr. Oelbaum and our periodontist will evaluate your symptoms and gingival pockets to determine the best option to treat your gums. The LANAP™ technique is generally very successful for patients who are considering periodontal surgery to rid their mouth of diseased tissue.
How is Gum Disease Treated with LANAP™ Procedure?
There are multiple benefits of treating gum disease with LANAP™. First, your LANAP™ procedure will begin with the application of a local anesthetic to help ensure your comfort throughout the treatment. The design of the LANAP™ laser allows your dentist to precisely control and guide the laser between your gums. This level of precision enables the removal of damaged tissue while protecting the healthy surrounding tissues. After the damaged tissue is removed, a small ultrasonic device cleans the teeth and gently removes any buildup of tartar or plaque. The LANAP™ laser is then guided along your gumline once more to sterilize the area, seal the gums, and help stimulate the body's natural healing process. The LANAP™ procedure is typically performed in two stages: one visit to treat the upper gums and a second visit for the lower gums. Each treatment session takes about two hours to complete.
Does LANAP™ Gum Disease Treatment Require Recovery?
As opposed to traditional surgical methods of addressing periodontal disease, the LANAP™ procedure can effectively eliminate damaged tissue quickly, effectively, and with increased comfort. Since this laser technology is able to precisely target only the affected tissues, recovery is typically much faster when compared to other techniques. Unlike surgical methods, patients often experience significantly less swelling and discomfort during the healing process after LANAP™. Most of our patients return to work the day after their LANAP™ procedure.
LANAP™ Procedure Follow-Up
Your dentist will schedule several follow-up appointments with you over the next few months to help ensure your recovery goes smoothly. If any complications arise, these appointments allow your dentist to quickly address them. In addition, after periodontal treatment, your teeth may shift slightly. These follow-up appointments will also allow your dentist to make occlusal adjustments to counteract these shifts, should they occur.
How Much Does LANAP™ Treatment Cost?
The cost of gum disease treatment with the LANAP™ laser is comparable to the price of traditional surgical procedures performed to resolve periodontitis. While each patient's unique needs will ultimately inform the total cost, expenses for LANAP™ amount to approximately $1,750 per quadrant. Other factors that can affect the price include:
Whether bone or tissue grafts are necessary
How many areas require treatment
Applicable insurance coverage
In order to help ensure high-quality treatments like LANAP™ are accessible to patients regardless of their budgetary concerns, our Bronx practice accepts dental financing from CareCredit®—a reputable healthcare lender that offers qualified patients short- and long-term payment plans with low- to no-interest rates. Our office would be happy to answer any questions you may have about financing, or the cost of our services in general.
To learn more about laser gum treatment with the LANAP™ laser, or to schedule a consultation with one of our dentists, please contact us today.