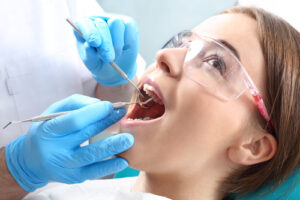 The Laser Assisted New Attachment Procedure (LANAP Nd:YAG™) allows our experienced dentists to treat periodontal disease more effectively than with traditional surgical methods. Additionally, this innovative laser gum treatment can offer a more comfortable experience for our patients at Dr. Victor Oelbaum & Associates while also accelerating the recovery period. Many of our patients are so pleased with their results that they recommend the procedure to their family and friends.
If you would like to schedule a consultation with one of our dentists to discuss periodontal disease treatment with the LANAP Nd:YAG™ laser, please contact our office today.
Treatment
There are multiple benefits of treating gum disease with LANAP™. First, your LANAP Nd:YAG™ procedure will begin with the application of a local anesthetic to help ensure your comfort throughout the treatment. The design of the LANAP Nd:YAG™ laser allows your dentist to precisely control and guide the laser between your gums. This level of precision enables the removal of damaged tissue while protecting the healthy surrounding tissues. After the damaged tissue is removed, a small ultrasonic device cleans the teeth and gently removes any buildup of tartar or plaque. Then the LANAP Nd:YAG™ laser is guided along your gum line once more to sterilize the area, seal the gums, and help stimulate the body's natural healing process. The LANAP Nd:YAG™ procedure is typically performed in two stages: one visit to treat the upper gums and a second visit for the lower gums. Each treatment session takes about two hours to complete.
Recovery
As opposed to traditional surgical methods of addressing periodontal disease, the LANAP Nd:YAG™ procedure can effectively eliminate damaged tissue quickly, effectively, and with increased comfort. Since this state-of-the-art laser technology is able to precisely target only the affected tissues, recovery is typically much faster. Compared to surgical methods, patients often experience significantly less swelling and discomfort during the healing process. Most of our patients return to work the day after their LANAP Nd:YAG™ procedure.
Follow Up
Your dentist will schedule several follow-up appointments with you over the next few months to help ensure your recovery goes smoothly. If any complications arise, these appointments allow your dentist to quickly address them. In addition, after periodontal treatment, your teeth may shift slightly. These follow-up appointments will also allow your dentist to made occlusal adjustments to counteract these shifts, should they occur.
Contact Us
To learn more about laser gum treatment with the LANAP Nd:YAG™ laser, or to schedule a consultation with one of our dentists, please contact us today.