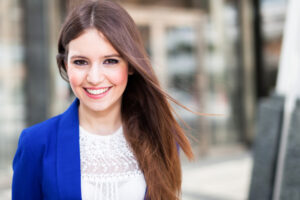 At Dr. Victor Oelbaum & Associates, our NYC dentists offer some of the latest, most advanced dental care treatments available. Our experienced team is highly skilled and trained in a number of procedures that can help improve your oral health, relieve pain and discomfort caused by TMD, and comprehensively address a multitude of dental issues in what is known as a full mouth reconstruction. Ultimately, all of this is done in an effort to help you achieve strong, healthy teeth and a beautiful smile.
Take a look at our advanced dental care options listed below, and please feel free to contact our office with any questions, or to schedule an appointment.
Root Canal / Endodontics
Endodontics is a dental specialty dealing with the tissues surrounding the root and pulp of a tooth. The principal focus of Endodontics is the root canal treatment, which can be a tooth-saving procedure should a tooth become severely decayed or infected. Although most general dental offices have to refer root canal patients to specialists, we have an Endodontist on site who can perform the root canal procedure right here in our office with the utmost degrees of comfort and efficacy.
Learn More About Root Canal Therapy and Endodontics
Prosthodontics
Prosthodontics is a subset of dentistry dealing with the restoration and replacement of teeth. From dental crowns and implants, to dental bridges and full mouth reconstruction, our experienced Prosthodontist provides a number of oral rehabilitation procedures that can be performed singularly or in combination to effectively address your dental needs.
Learn More About Prosthodontics
TMJ/TMD Treatments
TMD, also referred to as TMJ disorder, is a generally painful condition that can stem from any number of issues, such as teeth grinding and clenching, cartilage deficiency, arthritis, jaw misalignment, and more. Located in the temporomandibular joint (where the jawbone meets the skull), symptoms of TMD commonly include headaches, jaw and facial pain, dizziness, and popping sensations, among others. In more severe cases, the effects of TMJ disorder can even spread throughout the body, sometimes causing back and shoulder pain, as well as numbness in the outer extremities.
At our office, we offer custom-made night guard therapy to treat TMJ symptoms. This can help you greatly reduce or even eliminate irritating symptoms associated with mild to moderate cases of TMD. We also refer more advanced cases of TMD to experienced TMJ specialists in the area. If you believe you may be experiencing the effects of TMD, our doctors can provide a thorough assessment of your condition and recommend a proper course of action based on your unique needs.
Learn More About TMJ/TMD Treatments
Contact Dr. Victor Oelbaum & Associates
For more information about any of our advanced dental care options, or to schedule an appointment at our office, please contact Dr. Victor Oelbaum & Associates today.