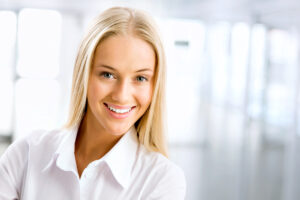 Porcelain veneers are one of the most common procedures performed by our Bronx cosmetic dentist, Dr. Victor Oelbaum. These versatile cosmetic solutions can correct a range of aesthetic dental issues, allowing patients to achieve picturesque smile makeovers. Composed of a thin, durable ceramic overlay that is bonded to the front of a tooth, porcelain veneers can hide the appearance of chips, gaps, stains, and even correct areas of teeth misalignment. Our custom-made dental veneers are designed for the most precise fit possible and can look like your natural teeth. Plus, they often last decades!
Please contact Dr. Victor Oelbaum & Associates for more information on porcelain dental veneers at our New York City-area practice.
What Can Porcelain Veneers Do?
Even the most rigorous brushing and flossing routine cannot stop normal wear and tear from affecting our teeth over time. Certain foods and beverages, the natural aging process, and dental injuries can cause both functional and aesthetic conditions such as:
Stains and discoloration
Chips
Cracks
Gaps
Misalignment
Porcelain dental veneers can better the health of your teeth in addition to masking surface imperfections, often providing results that look both natural and beautiful.
Am I a Candidate for Porcelain Veneers?
Porcelain veneers may be an ideal dental solution if you are troubled by stains, cracks, chips, gaps, slight misalignments, and/or various other cosmetic tooth-related issues. As restorations secured to the front of each affected tooth, these durable ceramic shells are designed to mask the aesthetic concern(s) you are seeking to improve while matching the color, size, and shape of adjacent teeth for seamless smile enhancement.
What is the Porcelain Veneers Process Like?
Composed of a strong ceramic material, porcelain dental veneers are thin coverings custom-designed to fit over the affected areas of your teeth. They require little removal of the original tooth. After Dr. Oelbaum makes an initial impression of your teeth, he will have your new veneer created to provide the best fit possible. Once the new veneer has been made, Dr. Oelbaum will bond it to the teeth with a durable cement, and then have it color-tinted to match the surrounding teeth. The entire treatment typically takes only two office visits.
One of the chief benefits of porcelain dental veneers is the length of results—in many cases, they last for decades. Plus, they look like your natural teeth! Dr. Victor Oelbaum & Associates can improve the appearance of your teeth and give you a beautiful new smile with porcelain dental veneers.
Do Porcelain Veneers Need Any Special Maintenance?
One of the greatest advantages of porcelain veneers is that they do not require additional maintenance aside from routine brushing, flossing, and regular dental cleanings. The veneers themselves are stain-resistant; however, maintaining recommended oral hygiene habits and receiving professional teeth cleanings at least twice a year is imperative to extending the lifespan of your veneers.
How Long Do Porcelain Veneers Last?
While porcelain veneers are not permanent, they are very durable and can last numerous years—often decades—for the majority of patients. As stated above, a major factor in enjoying long-lasting results is making sure to brush and floss on a daily basis, as well as visiting the dentist for professional cleanings two times per year minimum.
Are There Alternatives to Porcelain Veneers?
Depending on the issue(s) you wish to correct, Dr. Victor Oelbaum & Associates offers several cosmetic dentistry options that could prove to be effective alternatives to porcelain veneers. Teeth whitening can be used to treat stains and yellowing, Invisalign® can be a great option for misalignments, and composite bonding can be a good solution for cracks or gaps. In addition, we offer Smile Makeover treatments that can comprehensively address several concerns for full smile enhancement.
Porcelain Veneers vs. Crowns
Porcelain veneers are often compared to dental crowns due to the aesthetic and functional benefits afforded by both procedures. Despite their similarities, there are a few key differences between porcelain veneers and crowns that distinguish each treatment from the other. In general, porcelain veneers are primarily placed for cosmetic purposes and can be very successful when employed to mask the appearance of minor dental flaws. Although the thin porcelain shells can be very durable and add strength to the tooth, porcelain veneers are not a solution to address severe enamel damage or decay.
In contrast, porcelain crowns can be an ideal option to exceptionally restore a weakened or impaired tooth. As sturdy "caps" designed to cover the entire tooth structure as opposed to solely a portion of it, porcelain crowns are often employed to inhibit further enamel damage, recover a tooth after a root canal, secure a dental bridge, or prevent an extraction, among other uses. While a custom-designed crown is usually an aesthetically pleasing restoration that can improve the look of your tooth and smile, its main function is rehabilitative in nature. Our friendly cosmetic dentists can help you determine the best treatment for your unique dental needs.
Porcelain Veneers vs. Lumineers®
Lumineers® are another type of cosmetic veneer used for the same purposes as porcelain veneers, but which differ in their thinner ceramic composition. Similarly utilized to hide common aesthetic imperfections, such as cracks, chips, gaps, and minor misalignments, Lumineers® are slimmer than porcelain veneers and do not involve any prior tooth preparation or trimming of enamel before placement. As a result, the Lumineers® technique is typically only suitable in select cases that can allow a natural-looking fit. Our dentists generally prefer to place porcelain veneers in lieu of Lumineers® because they tend to more closely match the translucency of natural tooth enamel. Furthermore, the extremely minimal tooth preparation necessary can ensure each patient achieves results that blend beautifully and harmoniously with the rest of their smile.
How Much Do Porcelain Veneers Cost?
The price of porcelain veneers varies according to your geographic location and the experience of your cosmetic dentist. In the Bronx, the average cost of porcelain veneers typically ranges from $700 to $2,500 per tooth. While this does not necessarily reflect the rates at our practice, it can give you an idea of the approximate expenses associated with treatment. Your true cost estimate will be more dependent on the details of your treatment plan, including:
The materials utilized
The location of the tooth/teeth treated
The number of veneers designed
In general, composite veneers tend to be less expensive than those made of porcelain. The cost of dental veneers can often be made more affordable with dental financing through CareCredit®, a highly reputable healthcare lending company that can help manage out-of-pocket costs. Qualified patients can pay for their treatment through a series of low monthly installments, allowing approved applicants to receive their porcelain veneers while accommodating any budgetary concerns. If you would like to learn more about the cost of porcelain veneers or how to proceed with financing, please call our office to speak to a member of our team.
Additional FAQs About Porcelain Veneers
Do porcelain veneers look natural?
Porcelain veneers can be incredibly natural-looking when treatment is conducted by a skilled and experienced cosmetic dentist. At our practice, an impression of your teeth is used to create veneers for an excellent fit, and once carefully placed, they are color-tinted to match the shade of your surrounding, natural teeth. In most cases, only you and those you choose to tell will know you have porcelain veneers. To see some examples of the type of results our patients have achieved with dental veneers, we encourage you to visit our smile gallery.
Do porcelain veneers stain?
The porcelain used to craft your veneers is very dense and designed to be stain-resistant, therefore it should not be discolored by coffee, wine, or other staining agents. However, it's still important to brush and floss your teeth daily, as sugar and decay can wear your veneers and shorten their lifespan.
Can porcelain veneers be whitened?
Just as porcelain veneers cannot be stained, they are similarly unaffected by whitening agents in strips, toothpastes, rinses, and professional treatment. If your veneer no longer matches the color of your teeth, your dentist may be able to polish or recolor them to blend into your surrounding teeth.
Does insurance cover porcelain veneers?
Although dental insurance usually does not cover cosmetic procedures, we encourage you to check with your provider to confirm whether porcelain veneers qualify for partial or full coverage. If not, the many low to no-interest payment plans from CareCredit® can make it easier for qualified patients to manage the costs of treatment.
How strong are porcelain veneers?
Porcelain is an incredibly durable dental material that can last for years. While you should have no problem managing hard or chewy foods, we recommend investing in a mouth guard if you grind or clench your teeth to prevent unnecessary damage to the veneer.
Will I have sensitivity after treatment?
Most patients do not have problems with tooth sensitivity after they receive their porcelain veneers, but there are many ways to alleviate potential discomfort. Namely, using products specifically designed to decrease dental sensitivity, such as Sensodyne® toothpastes and rinses, is generally very helpful. In addition, temporarily avoiding very hot or cold food temperatures can stop sensitivity from exacerbating.
To find out what porcelain veneers can do for your smile, please feel free to contact our office online or by phone to schedule an appointment.