Bronx Cosmetic Dentist Now Offering Advanced 3D X-Ray Imaging Technology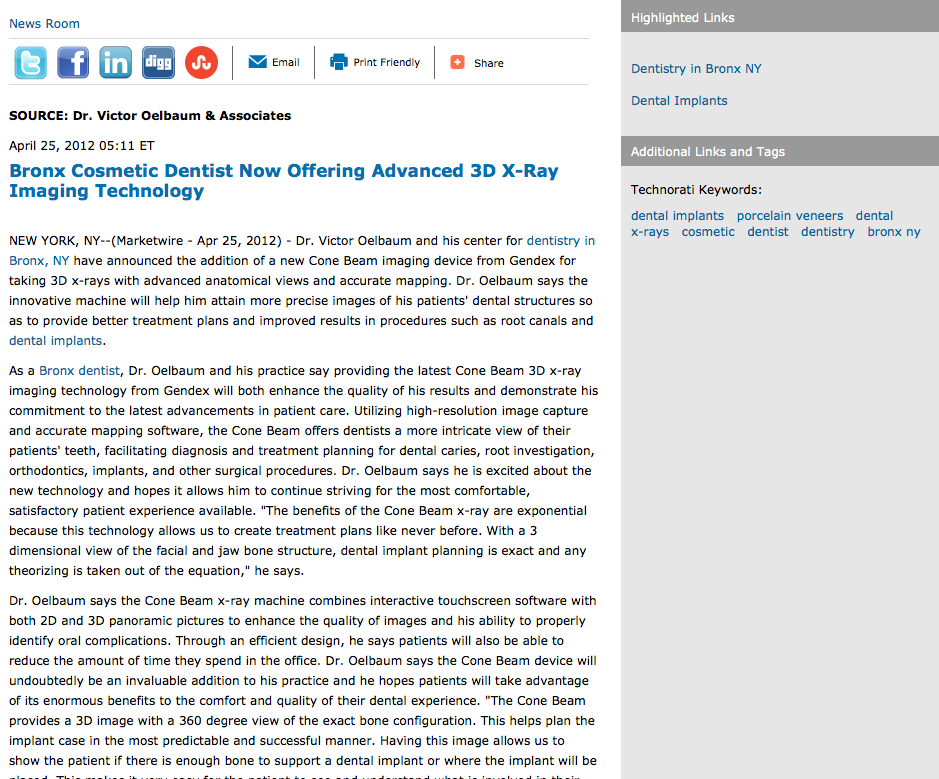 Bronx, NY — Dr. Victor Oelbaum and his center for dentistry in Bronx, NY have announced the addition of a new Cone Beam imaging device from Gendex for taking 3D x-rays with advanced anatomical views and accurate mapping. Dr. Oelbaum says the innovative machine will help him attain more precise images of his patients' dental structures so as to provide better treatment plans and improved results in procedures such as root canals and dental implants.
As a Bronx dentist, Dr. Oelbaum and his practice say providing the latest Cone Beam 3D x-ray imaging technology from Gendex will both enhance the quality of his results and demonstrate his commitment to the latest advancements in patient care. Utilizing high-resolution image capture and accurate mapping software, the Cone Beam offers dentists a more intricate view of their patients' teeth, facilitating diagnosis and treatment planning for dental caries, root investigation, orthodontics, implants, and other surgical procedures. Dr. Oelbaum says he is excited about the new technology and hopes it allows him to continue striving for the most comfortable, satisfactory patient experience available. "The benefits of the Cone Beam x-ray are exponential because this technology allows us to create treatment plans like never before. With a 3 dimensional view of the facial and jaw bone structure, dental implant planning is exact and any theorizing is taken out of the equation."
Dr. Oelbaum says the Cone Beam x-ray machine combines interactive touchscreen software with both 2D and 3D panoramic pictures to enhance the quality of images and his ability to properly identify oral complications. Through an efficient design, he says patients will also be able to reduce the amount of time they spend in the office. Dr. Oelbaum says the Cone Beam device will undoubtedly be an invaluable addition to his practice and he hopes patients will take advantage of its enormous benefits to the comfort and quality of their dental experience. "The Cone Beam provides a 3D image with a 360 degree view of the exact bone configuration. This helps plan the implant case in the most predictable and successful manner. Having this image allows us to show the patient if there is enough bone to support a dental implant or where the the implant will placed. This makes it very easy for the patient to see and understand what is involved in their treatment and care."
Whether patients are seeking general preventative care or a cosmetic procedure like porcelain veneers, Dr. Oelbaum says consulting with a practice that stays up-to-date with the latest technology is essential for achieving the safest and most effective results. He says the Cone Beam is just such a technology that can provide patients with top-of-the-line treatment and a comfortable procedure.
About Victor Oelbaum, DDS
A graduate of the University of Maryland, Dr. Victor Oelbaum is a member of the American Dental Association and has been in practice for over 26 years. He is also a member of the American Academy of Cosmetic Dentistry.
Located at 2335 Eastchester Road in Bronx, NY, Dr. Victor Oelbaum & Associates can be reached at (800) 822-9142. It can also be contacted online via the website sensationalteeth.com or facebook.com/SensationalTeeth.
Contact:
Rosemont Media
Stephen Lintner
[email protected]
(858) 200-0044
www.rosemontmedia.com
###