Bronx Dentistry Practice Employs In-House Prosthodontist For Full Mouth Reconstructions
A prosthodontist is specially trained in oral rehabilitation techniques including dental implants, crowns, bridges, composite bonding, and implant-secured dentures.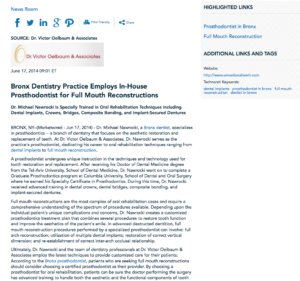 Bronx, NY – A prosthodontist undergoes unique instruction in the techniques and technology used for tooth restoration and replacement. Full mouth reconstructions are the most complex of oral rehabilitation cases and require a comprehensive understanding of the spectrum of procedures available. Depending upon the individual patient's unique complications and concerns, a prosthodontist creates a customized treatment plan that combines several procedures to restore tooth function and improve the aesthetics of the patient's smile. In advanced destructed dentition, full mouth reconstruction procedures performed by a specialized prosthodontist can involve: full arch reconstruction; utilization of multiple dental implants; restoration of correct vertical dimension; and re-establishment of correct inter-arch occlusal relationship.
Ultimately, the team of dentistry professionals at Dr. Victor Oelbaum & Associates employ the latest techniques to provide customized care for their patients. Patients who are seeking full mouth reconstructions should consider choosing a certified prosthodontist as their provider. By choosing a prosthodontist for oral rehabilitation, patients can be sure the doctor performing the surgery has advanced training to handle both the aesthetic and the functional components of tooth restoration and replacement.
For more information, visit sensationalteeth.com and facebook.com/SensationalTeeth.
Contact:
Dr. Victor Oelbaum & Associates
2335 Eastchester Road
Bronx, NY 10469
(800) 822-9142
Rosemont Media
[email protected]
(858) 200-0044
www.rosemontmedia.com