Bronx Dentistry Practice Employs In-House Prosthodontist For Full Mouth Reconstructions
---
Dr. Michael Nawrocki is specially trained in oral rehabilitation techniques including dental implants, crowns, bridges, composite bonding, and implant-secured dentures.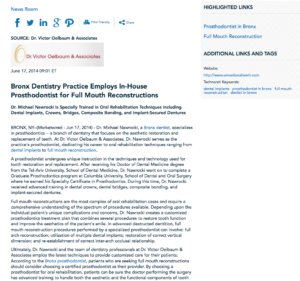 Bronx, NY – Dr. Michael Nawrocki, a Bronx dentist, specializes in prosthodontics—a branch of dentistry that focuses on the aesthetic restoration and replacement of teeth. At Dr. Victor Oelbaum & Associates, Dr. Nawrocki serves as the practice's prosthodontist, dedicating his career to oral rehabilitation techniques ranging from dental implants to full mouth reconstruction.
A prosthodontist undergoes unique instruction in the techniques and technology used for tooth restoration and replacement. After receiving his Doctor of Dental Medicine degree from the Tel-Aviv University, School of Dental Medicine, Dr. Nawrocki went on to complete a Graduate Prosthodontics program at Columbia University, School of Dental and Oral Surgery where he earned his Specialty Certificate in Prosthodontics. During this time, Dr. Nawrocki received advanced training in dental crowns, dental bridges, composite bonding, and implant-secured dentures.
Full mouth reconstructions are the most complex of oral rehabilitation cases and require a comprehensive understanding of the spectrum of procedures available. Depending upon the individual patient's unique complications and concerns, Dr. Nawrocki creates a customized prosthodontics treatment plan that combines several procedures to restore tooth function and improve the aesthetics of the patient's smile. In advanced destructed dentition, full mouth reconstruction procedures performed by a specialized prosthodontist can involve: full arch reconstruction; utilization of multiple dental implants; restoration of correct vertical dimension; and re-establishment of correct inter-arch occlusal relationship.
Ultimately, Dr. Nawrocki and the team of dentistry professionals at Dr. Victor Oelbaum & Associates employ the latest techniques to provide customized care for their patients. According to the Bronx prosthodontist, patients who are seeking full mouth reconstructions should consider choosing a certified prosthodontist as their provider. By choosing a prosthodontist for oral rehabilitation, patients can be sure the doctor performing the surgery has advanced training to handle both the aesthetic and the functional components of tooth restoration and replacement.
About Michael Nawrocki, MD, DMD, MS, FACP
Prior to obtaining his Doctor of Dental Medicine degree, Dr. Nawrocki earned a Doctor of Medicine (MD) degree from the Technion – Israel Institute of Technology, School of Medicine, graduating 'Cum Laude.' In addition to completing the aforementioned Graduate Prosthodontics program, he has also completed an International Postdoctoral Program in General Dentistry at the University of Rochester, School of Medicine and Dentistry. Furthermore, Dr. Nawrocki has received a Professional Certification of Diplomate and a Professional Certification of Fellow from the American Board of Prosthodontics and the American College of Prosthodontics, respectively. He is available for interview upon request.
For more information, visit sensationalteeth.com and facebook.com/SensationalTeeth.
Contact:
Dr. Victor Oelbaum & Associates
2335 Eastchester Road
Bronx, NY 10469
(800) 822-9142
Rosemont Media
tom@rosemontmedia.com
(858) 200-0044
www.rosemontmedia.com