Bronx Dentist Celebrates National Dental Hygiene Month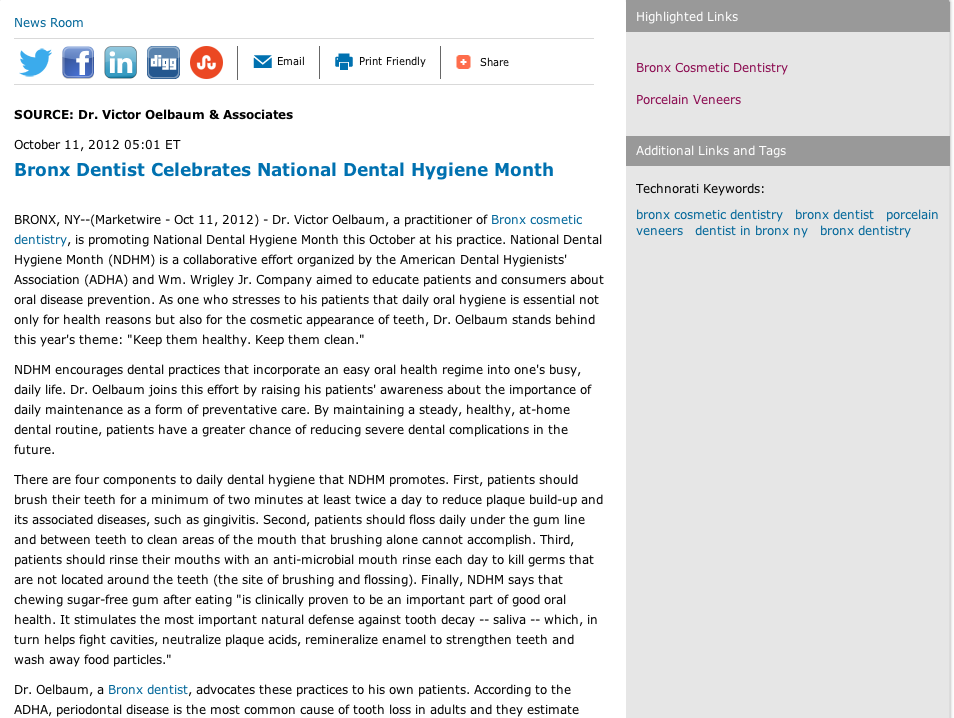 Bronx, NY – Dr. Victor Oelbaum, a practitioner of Bronx cosmetic dentistry, is promoting National Dental Hygiene Month this October at his practice. National Dental Hygiene Month (NDHM) is a collaborative effort organized by the American Dental Hygienists' Association (ADHA) and Wm. Wrigley Jr. Company aimed to educate patients and consumers about oral disease prevention. As one who stresses to his patients that daily oral hygiene is essential not only for health reasons but also for the cosmetic appearance of teeth, Dr. Oelbaum stands behind this year's theme: "Keep them healthy. Keep them clean."
NDHM encourages dental practices that incorporate an easy oral health regime into one's busy, daily life. Dr. Oelbaum joins this effort by raising his patients' awareness about the importance of daily maintenance as a form of preventative care. By maintaining a steady, healthy, at-home dental routine, patients have a greater chance of reducing severe dental complications in the future.
There are four components to daily dental hygiene that NDHM promotes. First, patients should brush their teeth for a minimum of two minutes at least twice a day to reduce plaque build-up and its associated diseases, such as gingivitis. Second, patients should floss daily under the gum line and between teeth to clean areas of the mouth that brushing alone cannot accomplish. Third, patients should rinse their mouths with an anti-microbial mouth rinse each day to kill germs that are not located around the teeth (the site of brushing and flossing). Finally, NDHM says that chewing sugar-free gum after eating "is clinically proven to be an important part of good oral health. It stimulates the most important natural defense against tooth decay – saliva – which, in turn helps fight cavities, neutralize plaque acids, remineralize enamel to strengthen teeth and wash away food particles."
Dr. Oelbaum, a Bronx dentist, advocates these practices to his own patients. According to the ADHA, periodontal disease is the most common cause of tooth loss in adults and they estimate that about 75% of Americans have some form of periodontal disease. As a dentist who values oral health as well as the cosmetic appearance of his patients' teeth, Dr. Oelbaum encourages his patients to take these preventive measures in the present to reduce the need for restorative and cosmetic procedures in the future.
About Victor Oelbaum, DDS
Dr. Victor Oelbaum is a graduate of the University of Maryland and is currently a member of the American Dental Association and the Academy of Cosmetic Dentistry. He has been practicing dentistry for 26 years and currently practices at Dr. Victor Oelbaum & Associates where he and his staff offer a variety of cosmetic, general, and restorative dentistry services. Treatments available at the practice include teeth whitening, porcelain veneers, the restoration of dental implants, and Invisalign® clear teeth aligners.
To contact Dr. Victor Oelbaum & Associates, visit their website at sensationalteeth.com or call 800-822-9142. The center's office is located at 2335 Eastchester Road, Bronx, NY 10469. The center's Facebook page can be found at facebook.com/SensationalTeeth.