Bronx Dentist Now Offering Advanced Microscope to Enhance Patient Results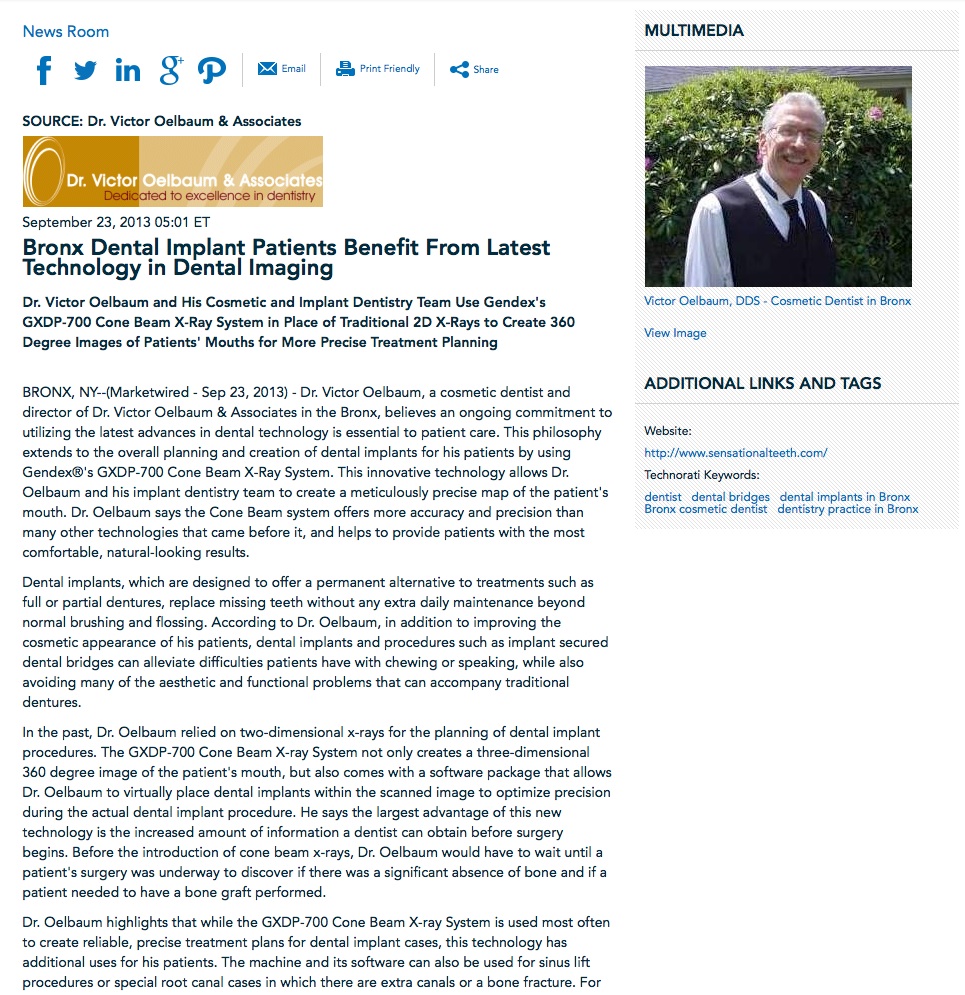 New York, NY — Dr. Victor Oelbaum, a dentist in Bronx, NY, has announced the addition of an innovative new dental microscope for improving patient care and the quality of results he is able to achieve. Designed to provide intense light and a higher potential for magnification, OPMI® pico dental microscope has been implemented at Dr. Oelbaum's Bronx dentistry practice and is ready to be used during a host of cosmetic and general procedures from bonding to root canals. Dr. Oelbaum says he is excited about the new technology and hopes patients take advantage of the device, as well as other advancements in dental medicine, as a way to ensure their treatments are performed with the utmost standards of safety and precision.
Whether he is performing dental sealants or porcelain veneers in New York City, Dr. Oelbaum says the OPMI® pico dental microscope will be able to help enhance the accuracy of his procedures thanks to a number of unique features. While traditional microscopes use a low-strength slide and lesser degrees of amplification, he says the greater magnification and light strength means patient's teeth can be seen with intense precision, allowing for a much better assessment of the treatment plan and a more accurate diagnosis. While he says the microscope was originally intended to be used for root canals at his practice, Dr. Oelbaum has found numerous ways in which to utilize the microscope, such as refining and smoothing crowns and bonding.
"The OPMI® pico microscope allows dentists to look at a tooth like a football field," says Dr. Oelbaum. "When things are blown up bigger, it makes looking for a canal, a crack, tooth decay, or tiny imperfections in the teeth much easier."
Developed by Carl Zeiss Meditec, the OPMI® pico is a compact, high-performance microscope that can be integrated with a number of attachments and optical functions to use during nearly any type of treatment. Dr. Oelbaum says he has fitted a high-quality digital camera to the microscope in order to allow him and his staff to take detailed pictures of his patient's teeth, aiding in his diagnosis and the formation of patient-specific treatment plans. He says one of the main benefits of the OPMI® pico is its versatility, as well as its ability to create the smoothest and most beautiful smiles possible.
As with any dental procedure, Dr. Oelbaum says patients interested in the OPMI® pico dental microscope for their dental implants or root canals should consult with an experienced and qualified dentist. He encourages patients to research their practice extensively before undergoing treatment so as to ensure the dentist performing their procedure is utilizing the safest, most effective techniques available.
About Victor Oelbaum, DDS
Dr. Victor Oelbaum is a graduate of the University of Maryland and a member of the American Academy of Cosmetic Dentistry, as well as the American Dental Association. Having practiced dentistry for over 26 years, he dedicates numerous hours each year to his continued education so as to provide the most advanced materials and techniques.
Dr. Victor Oelbaum & Associates is located at 2335 Eastchester Road in Bronx, NY and can be contacted at (800) 822-9142. The practice can also be contacted online via the websites sensationalteeth.com or facebook.com/sensationalteeth.