Implant-Supported Dentures Provide a Convenient Alternative for Bronx Dental Patients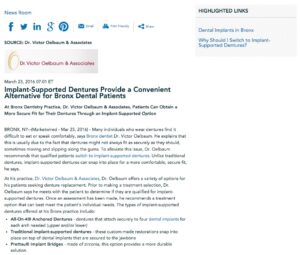 At Bronx Dentistry Practice, Dr. Victor Oelbaum & Associates, patients can obtain a more secure fit for their dentures through an implant-supported option.
Bronx, NY — Many individuals who wear dentures find it difficult to eat or speak comfortably, says Bronx dentist Dr. Victor Oelbaum. He explains that this is usually due to the fact that dentures might not always fit as securely as they should, sometimes moving and slipping along the gums. To alleviate this issue, Dr. Oelbaum recommends that qualified patients switch to implant-supported dentures. Unlike traditional dentures, implant-supported dentures can snap into place for a more comfortable, secure fit, he says.
At his practice, Dr. Victor Oelbaum & Associates, Dr. Oelbaum offers a variety of options for his patients seeking denture replacement. Prior to making a treatment selection, Dr. Oelbaum says he meets with the patient to determine if they are qualified for implant-supported dentures. Once an assessment has been made, he recommends a treatment option that can best meet the patient's individual needs. The types of implant-supported dentures offered at his Bronx practice include:
All-On-4® Anchored Dentures

–  dentures that attach securely to four

dental implants

for each arch needed (upper and/or lower)

Traditional implant-supported dentures

– these custom-made restorations snap into place on top of dental implants that are secured to the jawbone

Prettau® Implant Bridges

– made of zirconia, this option provides a more durable solution
Dr. Oelbaum explains that every option has its own unique advantages, and depending on each patient's case, an appropriate option can be utilized.
Patients who switch from traditional dentures to implant-supported dentures can also achieve additional benefits, says Dr. Oelbaum. The Bronx dentist explains that bone degeneration can occur in the jaw as a result of missing teeth, but when a dental implant post is attached, the jawbone can be regenerated and preserved. He notes that by preventing potential wear on the gums, implant-supported dentures can also help to maintain healthy gum tissue.
Ultimately, Dr. Oelbaum says patients with dentures who qualify as candidates for implant-supported dentures can greatly benefit from an upgrade. To discover whether or not the treatment is suitable, he recommends that interested patients seek out a skilled and experienced dental professional for a consultation.
About Dr. Victor Oelbaum & Associates
Located in Bronx, New York, Dr. Victor Oelbaum & Associates is a dental practice offering a wide array of treatment options, including general, restorative, and cosmetic dentistry procedures. Led by Dr. Victor Oelbaum, the practice consists of a comprehensive group of dental professionals, including orthodontists, periodontists, endodontists, prosthodontists, cosmetic dentists, and more. The dentists are available for interview upon request.
To learn more about Dr. Victor Oelbaum & Associates, please visit sensationalteeth.com and facebook.com/SensationalTeeth.
Contact:
Dr. Victor Oelbaum & Associates
2335 Eastchester Road
Bronx, NY 10469
(347) 380-9322
Rosemont Media
(858) 200-0044
www.rosemontmedia.com