Bronx Dentist Reveals the Benefits of Prosthodontic Full Mouth Restoration
---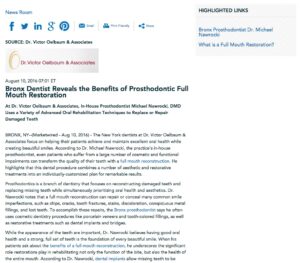 At Dr. Victor Oelbaum & Associates, in-house prosthodontist Michael Nawrocki, DMD uses a variety of advanced oral rehabilitation techniques to replace or repair damaged teeth.
Bronx, NY – The New York dentists at Dr. Victor Oelbaum & Associates focus on helping their patients achieve and maintain excellent oral health while creating beautiful smiles. According to Dr. Michael Nawrocki, the practice's in-house prosthodontist, even patients who suffer from a large number of cosmetic and functional impairments can transform the quality of their teeth with a full mouth reconstruction. He highlights that this dental procedure combines a number of aesthetic and restorative treatments into an individually-customized plan for remarkable results.
Prosthodontics is a branch of dentistry that focuses on reconstructing damaged teeth and replacing missing teeth while simultaneously prioritizing oral health and aesthetics. Dr. Nawrocki notes that a full mouth reconstruction can repair or conceal many common smile imperfections, such as chips, cracks, tooth fractures, stains, discoloration, conspicuous metal fillings, and lost teeth. To accomplish these repairs, the Bronx prosthodontist says he often uses cosmetic dentistry procedures like porcelain veneers and tooth-colored fillings, as well as restorative treatments such as dental implants and bridges.
While the appearance of the teeth are important, Dr. Nawrocki believes having good oral health and a strong, full set of teeth is the foundation of every beautiful smile. When his patients ask about the benefits of a full mouth reconstruction, he underscores the significant role restorations play in rehabilitating not only the function of the bite, but also the health of the entire mouth. According to Dr. Nawrocki, dental implants allow missing teeth to be replaced with stable, comfortable, natural-looking restorations that function just like healthy teeth. Additionally, they aid in the prevention of jawbone deterioration that may occur when a tooth remains damaged or absent for a considerable amount of time. For patients who may not be ideal candidates for a full set of dental implants, he says implant-supported dentures or dental bridges can usually provide an effective alternative while still avoiding the messy adhesives and maintenance required by traditional dentures.
Ultimately, Dr. Nawrocki explains that, aesthetics and tooth function aside, the greatest benefit of a full mouth restoration for most patients is the final result: the ability to once again speak, chew, and smile with confidence.
About Michael Nawrocki, DMD
Dr. Nawrocki earned his Doctor of Medicine (MD) from the Technion – Israel Institute of Technology, graduating Cum Laude. He later went on to earn his Doctor of Dental Medicine (DMD) degree at the Tel-Aviv University, School of Dental Medicine. After completing a Graduate Prosthodontics program and an International Postdoctoral Program in General Dentistry at the University of Rochester, Dr. Nawrocki received a Professional Certification of Diplomate from the American Board of Prosthodontics and a Professional Certification of Fellow from the American College of Prosthodontics. He is available for interview upon request.
For more information, visit sensationalteeth.com and facebook.com/SensationalTeeth.
Contact:
Dr. Victor Oelbaum & Associates
2335 Eastchester Road
Bronx, NY 10469
(718) 882-7202
Rosemont Media
(858) 200-0044
www.rosemontmedia.com