Bronx Dentist Uses Innovative PROPEL® Technology To Accelerate Orthodontic Results
---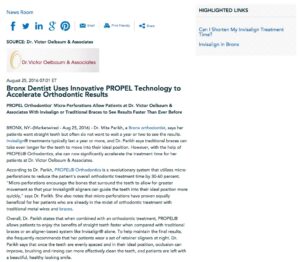 PROPEL® Orthodontics' micro-perforations allow patients at Dr. Victor Oelbaum & Associates with Invisalign® or traditional braces to see results faster than ever before.
Bronx, NY – Dr. Mita Parikh, a Bronx orthodontist, says her patients want straight teeth but often do not want to wait a year or two to see the results. Invisalign® treatments typically last a year or more, and Dr. Parikh says traditional braces can take even longer for the teeth to move into their ideal position. However, with the help of PROPEL® Orthodontics, she can now significantly accelerate the treatment time for her patients at Dr. Victor Oelbaum & Associates.
According to Dr. Parikh, PROPEL® Orthodontics is a revolutionary system that utilizes micro-perforations to reduce the patient's overall orthodontic treatment time by 30-60 percent. "Micro-perforations encourage the bones that surround the teeth to allow for greater movement so that your Invisalign® aligners can guide the teeth into their ideal position more quickly," says Dr. Parikh. She also notes that micro-perforations have proven equally beneficial for her patients who are already in the midst of orthodontic treatment with traditional metal wires and braces.
Overall, Dr. Parikh states that when combined with an orthodontic treatment, PROPEL® allows patients to enjoy the benefits of straight teeth faster when compared with traditional braces or an aligner-based system like Invisalign® alone. To help maintain the final results, she frequently recommends that her patients wear a set of retainer aligners at night. Dr. Parikh says that once the teeth are evenly spaced and in their ideal position, occlusion can improve, brushing and rinsing can more effectively clean the teeth, and patients are left with a beautiful, healthy looking smile.
About Dr. Victor Oelbaum & Associates
Dr. Victor Oelbaum & Associates is a comprehensive New York dentistry practice located in Bronx. In addition to experienced dental hygienists, assistants, and coordinators, Dr. Oelbaum leads a dental team composed of orthodontist Dr. Mita Parikh, implant dentist Dr. Michael Nawrocki, and periodontist Dr. Daniel Reich. Dr. Parikh specializes in orthodontic treatments including Invisalign® and PROPEL® Orthodontics. Dr. Victor Oelbaum & Associates offers a wide range of services including dental implants, porcelain veneers, teeth whitening, and periodontal treatment.
For more information, visit sensationalteeth.com and facebook.com/SensationalTeeth.
Contact:
Dr. Victor Oelbaum & Associates
2335 Eastchester Road
Bronx, NY 10469
(718) 882-7202
Rosemont Media
(858) 200-0044
www.rosemontmedia.com