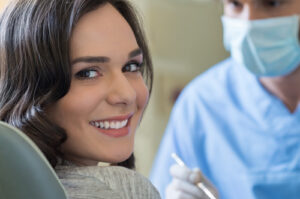 The LANAP™ procedure for gum disease provides our patients with a number of advantages when compared to traditional surgical methods. With this state-of-the-art laser technology, our experienced dentists can remove damaged gum tissue without harming the surrounding healthy tissues. Since the procedure is considered minimally invasive, some patients who often cannot undergo surgery due to certain pre-existing medical conditions (such as diabetes, hemophilia, or HIV) may be good candidates for this laser gum treatment.
Additional benefits of the LANAP Nd:YAG™  procedure can include:
Minimized discomfort and swelling

Bladeless procedure with no need for sutures

Minimal gum recession

Stimulated gum regeneration

Quicker, easier recovery compared to traditional surgical methods

Improved oral health

Improved overall health

Long-lasting results
This minimally invasive procedure is often an attractive alternative to traditional methods of periodontal treatments, and can be ideal for patients prone to dental anxiety. Periodontal disease is a serious condition that can cause significant health issues when left untreated. In addition to oral health concerns, there have been proven links between periodontal disease and conditions that can affect your overall health such as respiratory infection, diabetes, heart disease, or stroke. The LANAP Nd:YAG™  procedure allows our dentists to improve not only your oral health but also help protect your overall health.
Contact Us
To learn more about treating periodontal disease with the LANAP Nd:YAG™ process, or to schedule a consultation with one of our dentists, please contact our office today.