Am I Too Old For Orthodontics?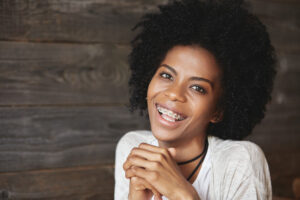 Many adults and older patients at Dr. Victor Oelbaum & Associates long for a straighter smile, but wonder whether the appropriate time to fix their crooked teeth has already passed. Despite popular belief, there is no age limit for orthodontic treatment and it's never too late to move the teeth into a healthier positioning. Straightening the teeth—even at a later stage in life—can enhance your oral wellness by fostering a properly aligned bite and making it easier to clean the teeth and gums. The positive effects that straight teeth can have on oral hygiene combined with the aesthetic advantages of treatment have made adult orthodontics more pervasive than ever—roughly one in five patients with braces are adults. What's more, a recent national study conducted by Invisalign® revealed nearly 8 in 10 adults agree that teeth straightening is "one of the most important treatments they have ever done for themselves."
Out of those who choose to undergo orthodontic treatment, the vast majority of older patients prefer to undergo treatment discreetly rather than wear traditional metal braces. At our Bronx-area practice, Dr. Mita Parikh—our orthodontist—offers Invisalign® teeth aligners, as well as other advanced cosmetic braces, to straighten your smile with minimal interference to your daily life. Utilizing transparent and removable aligners, Invisalign® does not restrict your diet or cause gum or mouth irritation from metal wiring and brackets. Treatment is often completed faster than metal braces and fewer office visits are typically required. This is often ideal for adult patients who lead busy lifestyles, or who are preoccupied with the demands of careers, hobbies, and kids. While aligning the teeth in an adult patient may take slightly longer when compared to the average treatment period for teens (since the jawbone is no longer in a state of development), Invisalign® and other orthodontic treatment options can achieve beautiful results that last decades.
For more information on orthodontics for adult patients, please contact Dr. Victor Oelbaum & Associates today.